After reading
Part I
of this series, you now have a clearer perspective of how you can prepare yourself for investing emotionally. The next stage is one that's vital to getting off to the right start. It's not enough for a friend or advisor to simply tell you where you will make the most money. This defeats the important step of understanding not only the investment climate you are in but the way that climate is going to affect
your
investment performance.
Also, one must not abdicate from one's own responsibility in investing by relying on an advisor for your actions. The initial approach to investing is to ensure that you incorporate your goals into your investments. When you look at another person's portfolio you may think that it's what you want. But you have to understand clearly who that person is and what they aim to achieve. It may be similar, but be driven by different objectives. We saw this in a well-constructed national reserves portfolio that has, we believe, been misunderstood. We describe this to illustrate how looks can be misleading.
The Example of Venezuela
In Venezuela the President has just ordered that all gold mined in Venezuela is to be sold to the government for their reserves. A look at President Chavez does not convince you that you're dealing with an investment specialist, so you assume his motives must be solely political, aimed at the foreign companies investing in Peru. Maybe he is simply combating illegal mining. But that would take you to the wrong conclusion.
His central Bank President is an educated man who's aiming to reach what he believes is the best shape for the countries reserves. He knows that the country is close to the bottom of the popularity table, so he must construct the national reserves to fend off any adverse effects of unpopularity. The nation has ordered the repatriation of their gold reserves from the important gold vaults of leading central banks around the world. This removes that gold from any possible confiscation or freezing, by those nations. This may be a difficult move to make in transporting that gold back home, but it certainly will protect it. Over 300 tonnes of gold is being moved. The country has gold reserves of around 1,000 tonnes in the ground, which over time is headed towards the national vaults.
The main export product of this nation is oil. President Chavez has fought many battles with foreign oil companies and is certainly headed to switching buyers of that oil from the U.S. to China, thus protecting himself against any adverse U.S. action against him, because of his mistreatment of the U.S. In addition, he is switching the foreign exchange reserves away from the U.S. dollar. Looked at through political eyes, these actions look anti-U.S.
Now look at the portfolio of the nation's reserves and the source of its cash flow, as an investor. Oil, for the foreseeable future, remains the most liquid asset in the world and in constant demand. While the price may fluctuate, it'll remain in demand in all parts of the globe, assuring Peru a constant cash flow no matter its unpopularity. With its currency reserves removed from the U.S. banking system, it is no longer vulnerable to the weakening of the dollar, which appears unavoidable in the years to come, thus strengthening the reserves of Venezuela and the possibility of capital appreciation of its reserves. Bear in mind, it will continue to receive U.S. dollars for its oil in the future to retain the flexibility of switching back to the dollar.
So this portfolio is structured to combat a very difficult time in the days ahead, whether this comes from the U.S. or just what's going to happen in the global investment scene. It holds reserves that will counter the ills of the currency world and allow sufficient flexibility. This will ensure that the nation's reserves will help the nation weather the storms that lie ahead. Peru may become the envy of many central banks in the future.
Hindsight—An Exact Science
As an investor, you have, squarely in your sights, the overall objective of maximizing
total long-term returns
. What do you see before you, across the broad spectrum of the different markets out there? A glance at the past shows you how well the different markets have done in the last decade.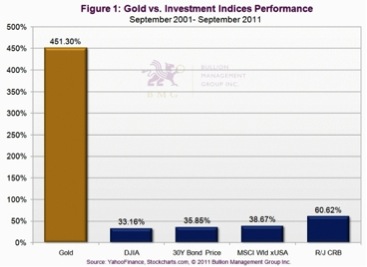 What you see is not very impressive, except for, maybe, precious metals. If you had received a tip on some particular share you may not have put the tip into this context. The tip may have been fundamentally correct but didn't perform because of this picture. Those who knew what was going to happen in advance probably ignored the tip you were given, because it was in the wrong sector. The bigger picture is your starting point.

Hindsight is an exact science and there are vast numbers of experts who could correct you when they can look back at the actual performance. But what about the way forward? How will the different markets perform in the future? Suddenly, that vast army of Professor Hindsights drops to a handful of experts who can forecast the markets.

So, will we see more of the same we saw in the last decade or will it be different?

The Future

We have found that the most accurate way of understanding the future of markets is through the process of extrapolation. That is, 'what's happening today, that's taking us to tomorrow'.

Faith in charts, faith in economists, or faith in anybody else often distracts from the fundamental process of seeing the evidence of today's decisions that'll shape tomorrow. What's happening today, globally—that is deciding tomorrow's investment picture. It is clear that we are moving to one of those dramatic moments in global financial markets when something is about to happen to change the financial climates of the developed world structurally and for a long time into the future. We now look at that potential future, based on what we are seeing today and focus on the objectives that the successful investor sets to maximize his returns in the turbulent days ahead.

Osmotic Drift of Wealth and Manufacturing from West to East & Your Plan for the Future

For Subscribers Only

www.GoldForecaster.com
www.SilverForecaster.com

Legal Notice / Disclaimer
This document is not and should not be construed as an offer to sell or the solicitation of an offer to purchase or subscribe for any investment. Gold Forecaster - Global Watch / Julian D. W. Phillips / Peter Spina, have based this document on information obtained from sources it believes to be reliable but which it has not independently verified; Gold Forecaster - Global Watch / Julian D. W. Phillips / Peter Spina make no guarantee, representation or warranty and accepts no responsibility or liability as to its accuracy or completeness. Expressions of opinion are those of Gold Forecaster - Global Watch / Julian D. W. Phillips / Peter Spina only and are subject to change without notice. Gold Forecaster - Global Watch / Julian D. W. Phillips / Peter Spina assume no warranty, liability or guarantee for the current relevance, correctness or completeness of any information provided within this Report and will not be held liable for the consequence of reliance upon any opinion or statement contained herein or any omission. Furthermore, we assume no liability for any direct or indirect loss or damage or, in particular, for lost profit, which you may incur as a result of the use and existence of the information, provided within this Report.