We've written about the importance of intermarket analysis. Movements in various sectors and asset classes influence each other. The Treasury market is the largest in the world and affects trends in other markets. Interestingly, bonds at times move with gold. In these cases it is due to a safety or flight to quality play and as a result mining equities tend to underperform. Earlier this year, the safety plays were the Swiss franc, gold and bonds. The first two were first to reverse and now bonds are putting in an important top. The beneficiary of this market shift will be mining equities and equities in general.
First we want to show that bonds have reached an extreme. Below is a composite sentiment indicator from the very trustworthy
sentimentrader.com, which provides
excellent sentiment data. Their indicator has nailed the last three peaks in bonds and I'm guessing it will be four for four.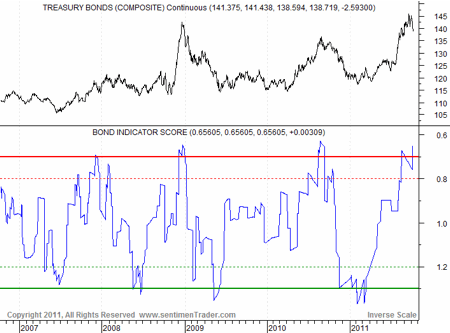 The chart below illustrates that the gold stocks tend to bottom ahead of important peaks in bonds. On top we show TLT, the bond ETF and below it the HUI Gold Bugs Index. The past three peaks in TLT coincided with the early phase of a strong advance in the mining stocks. The 2005 peak in bonds lasted for two years while the 2008 peak lasted for the two years.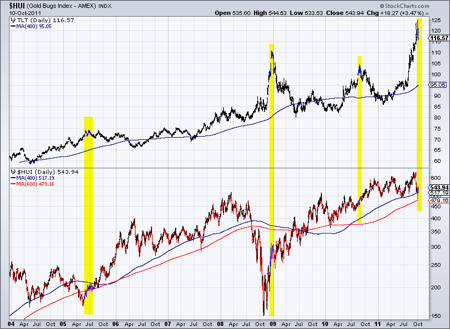 The recent widespread carnage came as a surprise to us as the gold stocks never provided any negative signals. However, we forgot about warning signals such as a surge in bonds and plunge in emerging markets including China. Now it's time to look forward. At present bonds have reached an overbought extreme and the risk reward is quite negative and in turn, positive for other markets.

Meanwhile, global equities are very oversold while the mining stocks have rebounded from support without violating their summer lows. These equities are set to benefit as capital shifts out of bonds. Precious metals have been the entire focus of our premium service but we've supplemented this with increased coverage of global markets. If you'd like help from a professional in navigating and profiting in these markets, then we invite you to learn more about our premium service.

Good Luck!

Jordan Roy-Byrne, CMT
[email protected]