On Friday, amidst the Occupy Wall Streeters and Steve Jobs obituaries, something else flooded the streets: an excess of new MWE and RGP units. . .the MLP Index was down only 0.3% in a very volatile week. Three of the five days saw moves of larger than 1.5%, and four out of five saw the index move more than 1%. Monday, the MLP index dropped 2.4%, then Wednesday and Thursday it recovered, before dropping another 1.1% on Friday. Friday's action can be mostly attributed to the $427.5 million (M) of new equity issued on Thursday night from Markwest and Regency. Both stocks struggled after pricing, although MWE held up better, closing only 1.4% below the price of the equity deal, and 4.4% below the previous close. By comparison, RGP closed Friday 3.1% below pricing, and 6.4% below its previous closing price.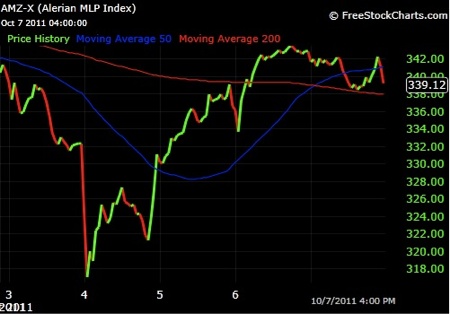 I can't remember another time when there were two follow-on equity deals launched on a Thursday afternoon. Generally, Friday's are more thinly traded and weaker than other days of the week, so you don't usually want to expose your unit price to the selling pressure post offering on a Friday. Monday afternoon through Wednesday afternoon are the preferred days of the week to issue equity, but clearly management teams are looking to take advantage of any strength in the market, and two straight +1.5% days in a row (Wednesday and Thursday), were clearly enough to make them pull the trigger.

MLPs lagged broad equity indexes, which were all up this week on what appeared to be selling fatigue from a very challenging September. Commodity prices recovered somewhat this week, treasury rates were up, and gold was up.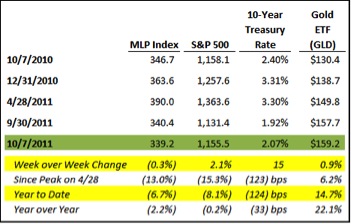 The final results for the index this week (almost flat) are deceiving, as many of the smaller MLPs were off much more than the index would suggest. The average price change for the 65 MLPs (not including GPs) that I track was -1.9%, which suggests that the larger and more heavily traded MLPs outperformed this week. The top five largest MLPs wre up on average 0.89% for the week, led by $PAA (2.82%), $KMP (2.28%) and $EPD (1.87%). Other strong performers this week included some of the previous week's losers like coal names $OXF and $NRP. RGP, as mentioned above, had a very rough week, down 9.5%, along with names that seem to be consistently on the red side of the below chart: $GLP and $CPLP.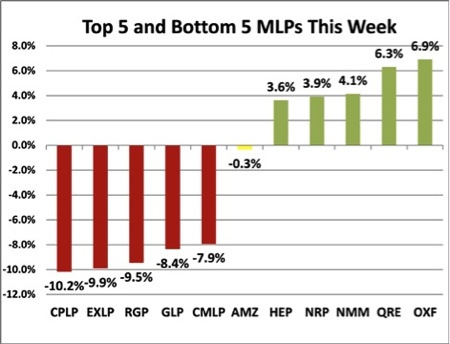 This week will likely be more treading water for MLPs, which will bounce around at the whim of the macro economic factors (Europe, U.S. datapoints, emerging markets datapoints), until earnings season kicks off the following week. There will be some early distribution announcements this week, $EPD typically kicks things off for the midstream MLPs with an announcement the second week of October. A positive surprise from EPD is not out of the question, given the strength in NGL market and drilling growth continuing in the Eagle Ford shale.

$QRE announced a distribution increase this week in conjunction with closing its previously announced $577M acquisition from Quantum. QRE announced its distribution would be flat this quarter, but would be 15% higher for the Q411. That's certainly not a negative datapoint as we head into distribution announcement and earnings season. . .

Also in the category of not bad datapoints, several upstream MLPs announced increases in their ability to borrow, including EROC, LGCY, and VNR. NRP also completed a private placement of $50M of senior notes. MLPs are shoring up balance sheets with equity deals and increasing their access to capital, good to see in the face of potential sovereign debt contagion-induced liquidity crisis. MLPs have been more conservative since 2008 in terms of distribution coverage and leverage, for the most part, and they are better positioned now to weather a second Black Swan market event in three years, if it were to happen. . .

Disclosure: The information in this article is not meant to be financial advice, we are not your financial advisor and I am posting my comments for informational purposes only. Long KMI, WES, GLP and RGP.