Master Limited Partnerships (MLPs) had an outstanding week on a relative basis, beating the S&P 500 by more than 450 basis points, but lost 2% on an absolute basis. This out-performance is even more pronounced compared to the energy index EPX (down more than 16%), and against crude oil's 9%+ decline. Most of that relative performance occurred on Monday, when MLPs were up 2.1%, while the S&P 500 lost 1.0%, after it became clear that a) the President's jobs bill did not include taxing partnerships, and b) the President's jobs bill had little chance of passing, and seemed more political than anything. With the tax threat removed from the top of investors' minds, MLPs melted up Monday and Tuesday, but couldn't keep the divergence from broader markets going on Wednesday afternoon when the Fed's operation "Twist" was announced. From Tuesday's close to the end of the week, MLPs dropped 4.8%, including 2.8% on Wednesday alone, as shown in the below chart of the MLP index for the week.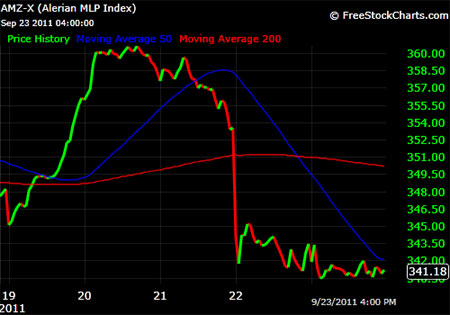 MLPs are currently yielding around 6.9%, or 509 basis points more than 10-treasury notes, compared to an average since 1998 of approximately 336 basis points. This spread is as wide as it has been since late 2009. For the most part, MLPs have done a good job of shoring up balance sheets and coverage ratios over the last 2-3 years since the last liquidity crisis, and are well positioned to outperform, as investors seek yield and as they recall how secure MLP distributions were through 2008-2009, with none of the top 25 largest MLPs cutting distributions.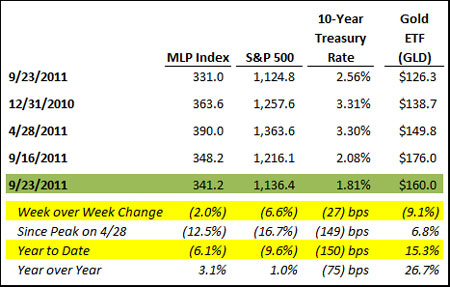 Amidst the global stock market meltdown last week, there were clearly more losers than winners in the MLP space. Coal names dominated the list of biggest losers this week. On average, coal MLPs declined 6.4% week over week.


There was quite a bit of MLP news this week, including an equity deal by Enbridge Energy Partners, L.P. (EEP/EEQ:NYSE) that raised $218M (Press Release).

Should be another very interesting week in the markets, which hopefully will continue to be led by MLPs, as investors take profits in gold and treasuries. . .