Japanese Prime Minister Yoshihiko Noda has stated that it is "impossible" for Japan to get by economically without nuclear power or under a quick phase out plan. Noting that a power shortage, "could bring down Japans economy," Noda indicated that "if we want [nuclear power] to go down to zero, development of alternative energy must be advanced considerably. . .it's still too early to say if we can get to that stage."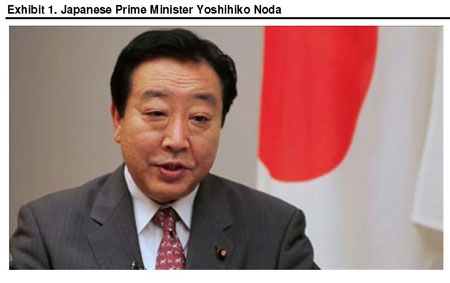 The statement by the Japanese Prime Minister follows an estimated 30,000 citizen protest against nuclear power in Tokyo. Noda intends to restart Japan's idled reactors during the spring to summer period of 2012. Since the events of March 11, nuclear reactors that were shut down for routine maintenance have been prevented from restarting and fewer than a dozen of Japan's 54 reactors are currently in operation. At the current rate, all nuclear power reactors in Japan will be shut down by May 2012.

Anti-nuclear critics have contended that Japan managed pretty well this past summer while many nuclear power plants were idled. Indicating that the situation is not as dire as the Prime Minister asserts. However, Chief Cabinet Secretary Osamu Fujimura has noted that Japan only had a 2.7% power supply shortfall during peak electricity demand this past summer. However, a power deficit of about 10% is projected for next summer if all reactors are shut down.

Noda also noted that the reactors at Fukushima Daiichi are expected to achieve cold shutdown by the end of the year, which would be a month ahead of schedule.

The strong pro-nuclear statement by the new Japanese Prime Minister is a sober approach to the nuclear power issue. The economic reality is that it would be prohibitively expensive to replace nuclear power with conventional power sources such as liquefied natural gas ("LNG") or coal. It is estimated that it would cost approximately US$60.5 billion (B) in capital costs to construct the necessary LNG capacity and between US$93-$151B to construct the necessary coal-fired capacity to replace the amount of power provided by the country's current fleet of nuclear reactors. Ongoing operation of these conventional sources of power would be very expensive, as it would annually cost Japan about US$27B and US$17B to import the necessary volumes of LNG and coal to fuel the plants, respectively.

Replacing nuclear power with alternative energy sources will also be very challenging, as it would require a 49-fold increase in capacity from wind, solar and geothermal sources. The cost to replace current nuclear power with solar (US$688B) or wind (US$334B) would be astronomical.

Moreover, Japan is estimated to have only 23.5 gigawatts (GW) of geothermal potential, which is shy of the 70.3 GW in expected electricity demand in 2030.

We wonder aloud what these numbers look like for Germany and whether a country dealing with a weak eurozone is equipped to make the expensive commitment of exiting nuclear.

Finland Pushes Ahead with Nuclear Power
Finland's supreme administrative court has overruled appeals of a nuclear reactor project. The ruling follows a Finnish parliament vote in July 2010 that supported the construction of two new nuclear reactors, which will increase the country's total to seven.

Supporters of the nuclear program point to the country's harsh winters that require high energy consumption. The country's steel making and forestry industries also rely on cheap power. Anti-nuclear activists have mentioned that they will take their efforts to the European Union.

Uranium Equity Basket Outperforms
Our basket of highlighted uranium names had a modestly positive week as its performance from September 14 to September 21 was up 1.8% on average. It significantly outperformed the broader S&P/TSX Global Base Metals Index's return of -10.9% over the same period.

Since we highlighted the names on August 24, the basket has gained 5.8% and has outperformed the S&P/TSX Global Base Metals Index's return of -12.5%.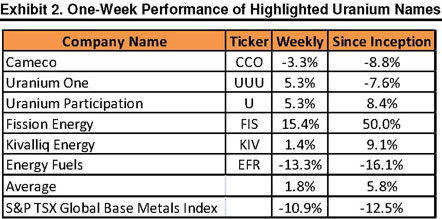 Implied EV/Lb Valuation
Applying the concept of mean reversion, a market-implied valuation can be derived by applying the average EV/Lb value to the valuation of each constituent company to determine its value if it reverted to the mean.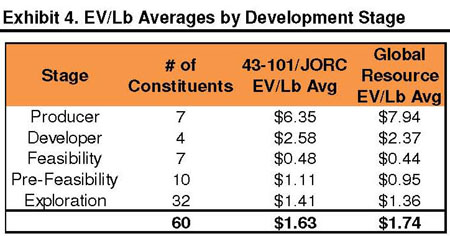 Disclaimers
The opinions, estimates and projections contained in this report are those of Versant Partners Inc. ("Versant") as of the date hereof and are subject to change without notice. Versant makes every effort to ensure that the contents have been compiled or derived from sources believed to be reliable and that contain information and opinions that are accurate and complete; however, Versant makes no representation or warranty, express or implied, in respect thereof, takes no responsibility for any errors and omissions which may be contained herein and accepts no liability whatsoever for any loss arising from any use of or reliance on this report or its contents. Information may be available to Versant that is not herein.

This report is provided, for informational purposes only, to institutional investor clients of Versant Partners Inc. Canada, and does not constitute an offer or solicitation to buy or sell any securities discussed herein in any jurisdiction where such offer or solicitation would be prohibited. This report is issued and approved for distribution in Canada, Versant Partners Inc., a member of the Investment Industry Regulatory Organization of Canada ("IIROC"), the Toronto Stock Exchange, the TSX Venture Exchange and the CIPF. This report is has not been reviewed or approved by Versant Partners USA, a member of FINRA. This report is intended for distribution in the United States only to Major Institutional Investors (as such term is defined in SEC 15a-6 and Section 15 of the Securities Exchange Act of 1934, as amended) and is not intended for the use of any person or entity that is not a major institutional investor. Major Institutional Investors receiving this report should effect transactions in securities discussed in the report through Versant Partners USA.

Potential Conflicts of Interest
The author of this report is compensated based in part on the overall revenues of Versant, a portion of which are generated by investment banking activities. Versant may have had, or seek to have, an investment banking relationship with companies mentioned in this report. Versant and/or its officers, directors and employees may from time to time acquire, hold or sell securities mentioned herein as principal or agent. Although Versant makes every effort possible to avoid conflicts of interest, readers should assume that a conflict might exist, and therefore not rely solely on this report when evaluating whether or not to buy or sell the securities of subject companies.

Disclosures as of September 22, 2011
Versant has provided investment banking services or received investment banking related compensation from Kivalliq Energy and Energy Fuels within the past 12 months. Versant has not received investment banking related compensation from Cameco, Fission Energy, Uranium One, Uranium Participation and U3O8 Corp.

The analyst responsible for this research report does not have, either directly or indirectly, a long or short position in the shares or options of Kivalliq Energy, Energy Fuels, Cameco, Fission Energy, Uranium One, Uranium Participation and U3O8 Corp.

The analyst responsible for this report has visited the material operations of U3O8 Corp, Uranium Energy Corp, Uranerz Energy and Kivalliq Energy. The analyst responsible for this report has not visited the material operations of Cameco, Uranium One, Uranium Participation, and Fission Energy.