There has been short-term profit taking in gold over the past few weeks as investors return to an oversold equity market. Make no mistake; such a development is temporary and healthy as GST believes gold prices will make it back to the $1900+ area.
It is important that our comments be clearly understood. As the Gold ETF (GLD) hit our overbought targets we moved laterally into our mining selections, which were just on the cusp of upside breakouts after several months of consolidation.
We remain firmly aboard the long-term ascent of the golden highway. However, we are now reaching a point where the gold trade is becoming overcrowded and we see greater potential upside in our undervalued miners such as the Gold Miners ETF (GDX) and Silver Miners ETF (SIL).
A correction here to $1650 would be within the parameters of a healthy consolidation. Recognize that GLD has made a considerable move since our last buy signal.
As contrarians it requires tremendous discipline to take profits when everything is coming up roses and to buy when there is blood in the streets. Yet this is precisely the discipline of the astute trader. There are always situations under the radar, ripe for the picking.
The gold bullion trade may have been getting somewhat crowded in early August as these central banks entered during the eye of the storm. My readers have been prepared for this current debt hurricane for many years. Now when gold reaches the front pages of the media in early August our readers were prepared for a bullish consolidation and focused on the undervalued miners just beginning to make major moves.
The undervalued miners (GDX and SIL) have yet to enjoy the run up that gold (GLD) and silver (SLV) bullion has experienced in 2011 and look to have recently broke out. Our chart below suggests that a rise is imminent in our selections in the precious metal miners (GDX and SIL) to catch up to the underlying bullion.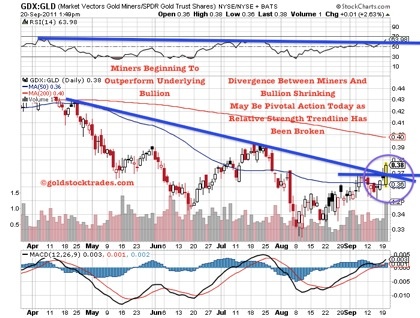 The markets will do whatever they can to confuse and misdirect us as prices may possibly retreat from these interim levels to long term support. It has been a breathtaking rise in the yellow metal as the euro and the United States both attempt to work its way out of their respected debt crises. We have seen an accelerated move in gold and this recent pullback may furnish some holders with the opportunity to reenter. The miners appear to be outperforming the bullion and may have broken a key downtrend. The uptrend in gold is still intact. Moreover, my firm believes that the rise in gold and silver is a sign that QE3 will occur in whatever guises necessary. The lawmakers in Washington are not ready to adopt draconian measures to reduce deficits by raising taxes and by cutting entitlements. Instead, they are choosing a much easier solution, which is to monetize the debt. The Fed will continue to print cheap dollars (UUP) in order to pay off obligations. This is one of the subsurface meanings to the solution of the debt crisis.

Investors are concerned by the current brittle economic fears of fiscal troubles that may lie directly ahead. Prices already are repeating last year's meteoric rise in gold. As the U.S. dollar grows weaker and inflation increases, the price of gold will move higher over the long term although there will be healthy, restorative pullbacks along the way. During those pullbacks the miners should outperform and shrink a very wide divergence. Stay tuned to my daily bulletin.

Disclosure: Long GLD,SLV, GDX