It's no news that our economy is struggling. The national unemployment rate has been hovering around
9.1%
, which doesn't even include the people who have given up even looking for work. This week, Reuters reported that
consumer confidence sank
to a two year low in August, the lowest since April of 2009. This week, in the midst of these dismal numbers, President Obama nominated Alan Krueger, a Princeton University expert on unemployment, as his tops job adviser.
Krueger, who will be instrumental in leading President Obama's forthcoming jobs plan, said this about oil and gas taxation during his tenure as assistant secretary and chief economist at the Treasury Department: "policies [such] as a cap-and-trade system or investing in clean technologies are a more effective way to reduce our vulnerability to an oil price shock and promote energy security than are tax subsidies that encourage oil companies to extract more oil from the ground than is economically justified without such subsidies." Please read the
IPAA tax structure analysis
to learn how revising the historic tax policies for American oil and natural gas production will cost this country.
The need for national economic growth raises the question about which parts of the economy are in fact currently providing growth, and the jobs that go with it. One valuable insight can be found right in one of the widely-followed economic indicators, the
Federal Reserve Board's (FRB) monthly index of industrial production
.
FACT:
Industries directly related to oil and natural gas production have a significant role in the Federal Reserve Board's data – accounting for more than 10% of the overall value of the index.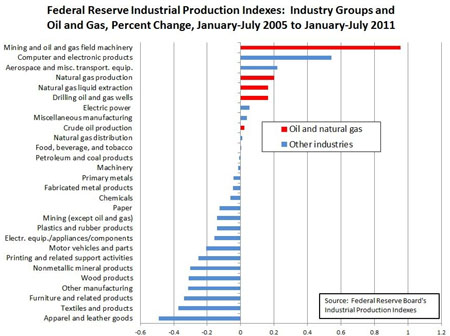 The chart compares output by industry for January-July 2005 with January-July 2011, using the FRB's index values. As the chart shows, one of the few bright spots for output growth across industries has been the upstream (exploration and production) oil and natural gas sector. While the overall index has shrunk by 2.3% over the period, all the sectors shown for upstream oil and gas, including crude oil production, natural gas production, extraction of natural gas plant liquids, drilling, and oil and gas field machinery, have shown increases over the period. The index for natural gas production is up more than 20%, while crude oil production is up a lesser two%, but notably reversing a prior decline. Extraction of natural gas liquids rose more than 16%. The increases for drilling services (up more than 16%) and "mining and oil and gas field machinery" (which nearly doubled) further reflect the robust role of oil and natural gas production.

Three ways the economy can grow is through consumer spending, government spending, and most importantly—job creation. American oil and gas production, with independents taking the lead, holds the key to all three forms of growth. Consumers have been hesitant to spend their money as job opportunities are scarce. However, when jobs are created consistently, consumption is likely to follow. Increased energy production at home increases energy supply, which eases prices at the pump—encouraging consumer spending. American production also creates among the largest revenues by source for the government through royalties and taxes. The data further confirms that the impact of this growth for oil and natural gas, besides delivering a growing source of much-needed energy for our economy (with oil and natural gas accounting for almost two-thirds of our total demand), is leading to vital job and revenue-generating growth in related economic sectors as well. Independents, in particular, are leading the way in this job creation. In fact, according to a recent IHS study, direct, indirect and induced jobs supported by the activity of onshore independents amount to 2.1 million in the upstream and almost 4 million when jobs in the midstream and downstream activities are included. This amounts to over three% of all U.S. jobs.

The economic growth of this sector is clearly a story of the value provided by the independent oil and natural gas industry, as it plays a major role in American oil and gas production. Independents producers operate in more than 32 states, account for 94% of wells drilled, and produce 65% of U.S. natural gas and 45% of U.S. oil.

Policymakers like Alan Krueger must acknowledge the wide array of value created by oil and natural gas producers in the midst of this turbulent economy. U.S. energy production unlocks needed energy reserves, creates jobs for Americans, boosts federal and state government coffers, and increases our nation's energy security. An energy policy which promotes American energy production through the activities of independents will undoubtedly add major growth to the economy. American producers are the real jobs experts and they have the ability to steer our economy out of the threatening recession.

Notes on the data: The FRB breaks out their data into about two dozen major industry groups, which are illustrated in the chart. We have also added the sub-series related to upstream oil and gas: crude oil production, natural gas production, extraction of natural gas liquids, oil field machinery, and drilling of oil and gas wells. Because oil and gas is such a large part of mining, we have included "mining except oil and gas" rather than the index for the whole mining sector in order to avoid significant double-counting.