Over the last month, while the IPO market was closed due to market correction and volatility, several hopeful MLPs continued to work through the SEC registration process with amended S-1s filed. Three new initial S-1s have been filed for MLPs since July 27, which increases the IPO backlog to a very robust eight IPOs waiting to go public. This comes on top of seven MLPs and one public GP that have already gone public this year. If all of these filed IPOs price this year, it would be the most MLP IPOs ever in a single year, in 2007 there were 13 MLP IPOs and in 2006 there were 18 total IPOs, including 10 MLPs and eight GPs. This big pile of new equity supply is going to weigh on the market this fall. It is a headwind that we didn't have in 2009 at all, and was less of a factor in 2010 when plenty of new institutional money was flowing into MLPs. Can the market gobble up all this new equity? I'm not sure.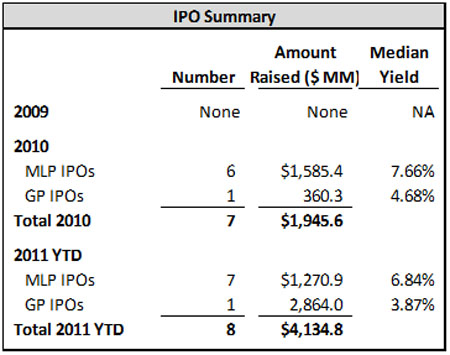 If you take out the $2.9 billion raised by $KMI's IPO, MLPs have issued $1.3 billion in equity through IPOs this year, compared with $1.6 billion last year. If another $1.0 billion is still to hit the market this fall, where will the buyers come from? I guess they'd have to come from new money or from people selling MLPs they own right now. Combining all this IPO equity overhang with the slowing economy and broader market declines, and it might be a weak fall for MLP investors. This may provide opportunities across the sector to pick up some of the better names on the cheap in anticipation of some uplift after this backlog gets cleaned out.

See below for an update of the IPO charts I posted in June. Since that post, we've had two MLPs price, with mixed results. $OILT is up more than 10% since IPO, $AMID is down more than 15%. Overall, the best performing IPO in 2011 is $UAN, with total returns of 44% since its April IPO, worst performing IPO is Compressco Partners ($GSJK), which is down almost 25% since its IPO in June. Source for all the IPO data is SEC filings and Bloomberg.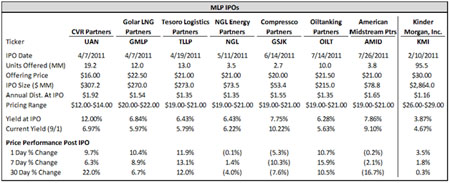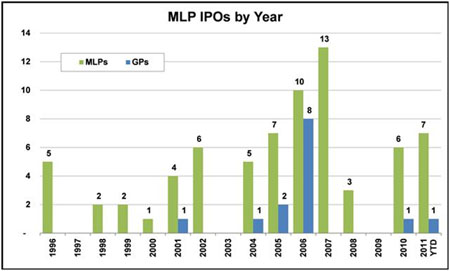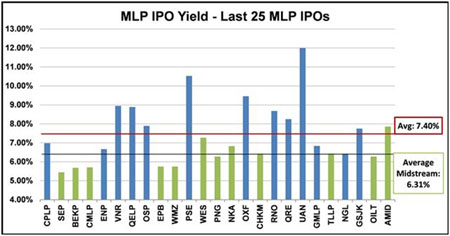 Hinds Howard
MLP Hindsight

Disclosure: The information in this article is not meant to be financial advice, we are not your financial advisor and I am posting my comments for informational purposes only.