I hope everyone had a fantastic Labor Day weekend. I truly enjoyed myself and was able to have some creativity with my 18-month-old daughter. I got some new office chairs last week and I finally had time to assemble them during the rainy and windy black Monday here in Canada. . .Just like a child on their birthday, I tossed the chair parts aside and played with the large boxes with Mirabelle.
With the black clouds rolling overhead, waves pounding the shoreline, rain gushing off the roof, and a pirate book sitting on the coffee table. It was only an hour later which Mirabelle was riding a huge cardboard pirate ship across the room AArrrr'n everything. . .So I truly enjoyed my day off with the family to say the least.
Okay, back to the market. . .
So after I built the Brown Pearl I jumped on the computer so see what the futures market was up to. The good news was that our short trade on the equities market was up 10% from our entry point last week. The bad news was that the stock market overseas was selling off big and so were U.S. stocks. It was a black Monday in both the sky and on the screen. . .
I'm not really sure how many people watch the futures market but I do know the majority of people do not. So Tuesday morning there will be a lot of people in a panic when they see stocks gap down sharply.
Taking a look at the 4-hour charts you can see the recent price action that unfolded today. We have been anticipating this from early last week. So none of this should be a surprise.
Dollar Index 4-Hour Chart:
The dollar index broke out of it falling pattern and has made a run up to the first resistance level of 75.40. I feel we could see it go a little higher on Tuesday but overall it looks ready for a pause or pullback here.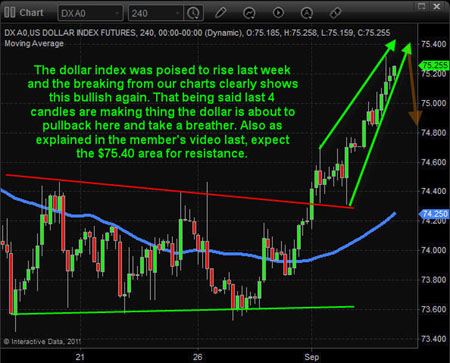 S&P500 Futures 4-Hour Chart:
The equities market has fallen sharply in the past week and the green circle is where we shorted the market using the SDS ETF. We did take partial profits last week to lock in 7.4% profit in a couple days, but we still hold the balance of the position, which is currently up over 10% using today's futures price.

The S&P500 looks to be getting oversold here and is now entering the previous low set a few weeks back. I will be looking to tighten stops and or exit the position early this week before a sharp rebound takes place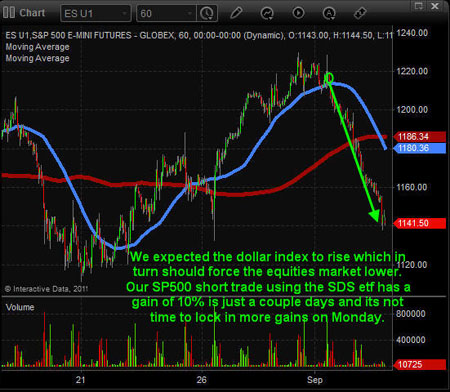 Bond Futures 4-Hour Chart:
Bonds are a safe haven for investors when fear is running high. The past couple trading sessions the price of bonds have shot up. This tells me panic selling in the stocks market has starting and that generally means we are nearing and tradable bottom for stocks. . .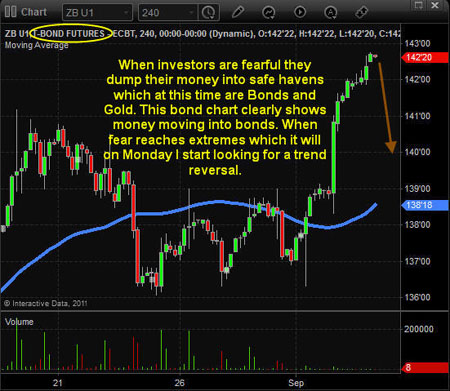 Gold Futures 4-Hour Chart:
Gold is the other safe haven. Here again we see money flow into gold at a very quick pace. . .We will need to see some resolutions in Euro-land before gold will trade lower or sideways, but until then I think scared money is going to keep rolling into gold.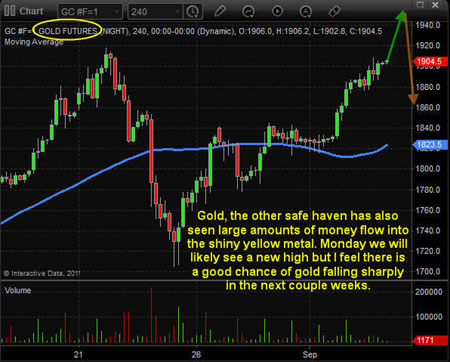 Crude Oil Futures 4-Hour Chart:
Oil has drifted its way up into a resistance level as of late last week only to find overhead supply. Once the selling started oil slid lower at a steady rate all the way back down to a short-term support zone. Now we are waiting to see if it will make a double bottom at $79 or bounce here.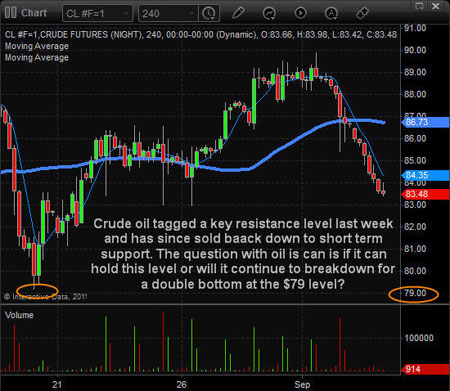 Weekend Trading Conclusion:
In short, Tuesday will be a volatile session judging from today's sharp price action. Fear is driving prices at the moment and until everyone panics out of stock positions and dumps their money into the safe havens we will not see a bottom form. Generally this takes two to five days to play out, but time will tell.

Consider joining me at TheGoldAndOilGuy for ETF trade ideas on the S&P500, Oil, Gold and Silver with great accuracy. Check it out at www.thegoldandoilguy.com.

Chris Vermeulen