This week, MLPs acted sort of the opposite of last week. Last week, MLPs were up on Monday, then down sharply the rest of the week. This week, as shown below, MLPs were down big Monday, then recovered strongly the rest of the week, to finish up 1.8% for the week. From Monday's close to Friday's MLPs were up 4.3%.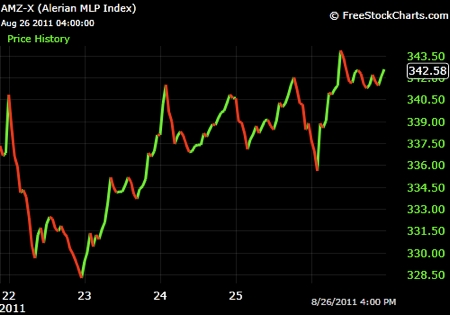 MLPs have outperformed the market since its peak on April 28th, dropping 12.1%, compared with 13.7% for the S&P 500. Gold has well outperformed both since late April, but was down this week.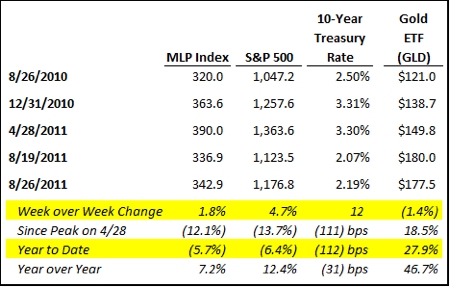 More generally, the headlines this week were dominated by Bernanke's speech at Jackson Hole, the earthquake and Hurricane Irene. None of these news items are likely to have a meaningful impact on MLPs. MLPs should benefit generally from the Fed's decision to hold interest rates low at least until 2013, but the Bernank's speech Friday produced not much in the way of new information.

The earthquake Tuesday was a non-event for the nation's energy infrastructure, and therefore for MLPs. Hurricane Irene is likely to have a larger, but transient effect on east coast assets owned by MLPs. There were several press releases and reports from MLPs of pipelines shut down as a result of the hurricane's damage, but nothing that won't be restarted in the next few days.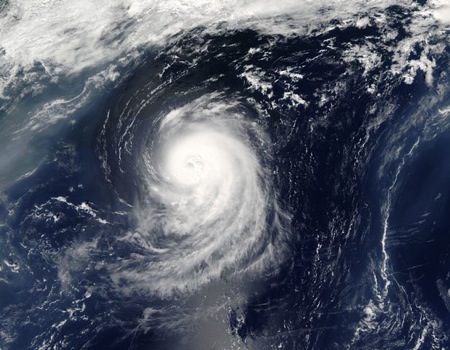 News this week for MLPs was very light. So, in a week light on news, MLPs melted up from Monday through Friday. Next week, as the waters in New York recede, and as people remain on vacation, I would not expect many deals either, especially capital markets deals. The absence of new equity supply for another week, with limited positive or negative catalysts and with value buyers starting to come into MLPs to pick up yield they can't get elsewhere, I'd expect MLPs to have another solid week. I believe MLPs have more upside risk than downside risk at this point, and expect September to be positive for MLPs as it was last year. My basis for this is simply market alternatives. With sentiment about everything bottoming out, people tend to find MLPs as a solid alternative to other investments. As we've seen the past few volatile weeks, it takes time for that transition to happen.

One more note, I want to let readers know that I will be speaking at the DealFlow Media MLP Conference, the first MLP conference ever by DealFlow. Agenda can be found here.