In recent commentaries we've discussed the relative strength of the gold stocks and in particular the relative strength of the large miners. This relative strength comes at a time when the sector is nearing a potentially historic breakout. We've written about this breakout before but now the gold shares are closing in and it could only be a matter of days. GDX, our proxy for large-caps is now, after almost a year of trading in a tight range, only 3-4% away from new all-time high territory. Meanwhile, ZJG, the Canadian junior gold ETF, though lagging behind, is in great position to follow GDX to new highs.
To get a feel for how the gold shares could perform after the breakout, consider one of the most classic breakouts. In late 1982 and 1983 the DJIA broke past 1000. This came after a 16-year consolidation. The retest came in early 1984 and the gradual move back to 1300 formed a cup and handle type pattern that facilitated an explosive move from 1300 to 2700 in just two years. The cup and handle lasted about 16 months.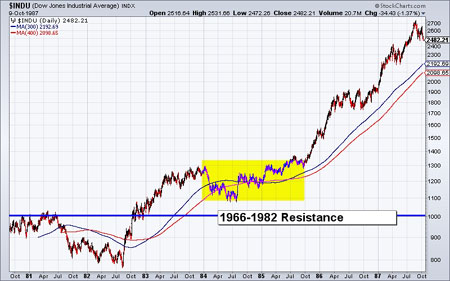 The large-cap gold stocks broke to new all time highs in late 2010. The breakout move, though small has formed a very bullish consolidation that has lasted almost one year. Tight consolidations are bullish. In this context of sustained new all-time highs for the first time in 30 years, an ensuing breakout after tight consolidation would have hugely bullish implications.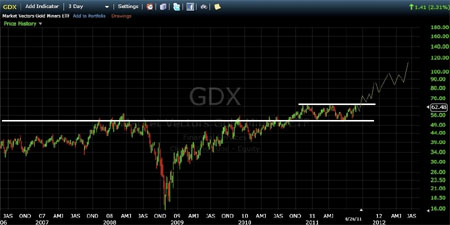 Interestingly, it's actually the junior golds that look more like the DJIA post-breakout. We use ZJG as it includes only gold companies and is more reflective of the junior gold sector than GDXJ. As you can see, ZJG is likely forming a cup and handle pattern. Look for a breakout in this market shortly after the breakout in the large caps.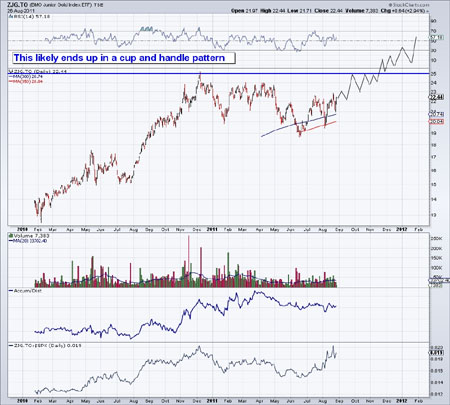 Here we go. The table is set. Unlike in 2008, the fundamentals for this sector are outstanding. Unlike in 2008, we have trouble in the sovereign credit. Unlike in 2008, Gold is accelerating and Silver is not far off its parabolic high. Unlike in 2008, the gold and silver stocks are holding up while the rest of the market falters. A simple way to take advantage would be to invest in a gold mutual fund, GDX or GDXJ. However, picking the right stocks and employing market timing tactics will produce better returns and in some cases, reduce your risk. If you'd be interested in professional guidance then we invite you to learn more about our service.

Good Luck!

Jordan Roy-Byrne, CMT
[email protected]