Readers of Gold Stock Trades continue to express an abiding interest in the "poor man's gold" known as silver. Prominent among the questions they raise is: Quo Vadis Silver?
Recently, the noble white metal experienced a rapid run up to the halcyon heights of $50 only to retreat again, off-again action was due to a technical response to silver's inherent volatility as both an industrial and a safe haven metal.
In order to quell such ebullient action, the Comex lowered the boom by a series of increasing margin requirements similar to what is occurring now in gold futures. GST subscribers were alerted well in advance that such moves were in the cards with silver in late April and gold recently. Too many hot, speculative monies were entering this market in late April and early August in gold. Moreover, the big banks and hedge funds grew uncomfortable with their growing short interest positions. The actions of the Comex arrived just in time to save the day for the big fellows.
Furthermore, the $50 area represents formidable overhead resistance dating back to January 1980, when the Hunt Brothers drove prices from $11 to $50 an ounce. It did not come as a surprise to our readers when we alerted them to the possibility that this overhead resistance would be subject to a Newtonian "equal and opposite reaction" to the mean that had been established in the low $30 area. This is where GST readers were informed to reposition themselves under $35.
Where do we go from here? Short and medium term: Recently, silver has broken its 10-week base and in the short term may have gotten ahead of itself on the breakout as the 50-day moving average flattens and commences an upward slope.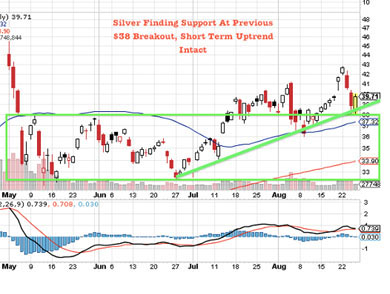 Look for a rendezvous with the 20- or 50-day moving average or its short-term uptrend for a secondary buypoint. Long term: Gold Stock Trades believes that silver will recapture the $50 heights sooner rather than later as we have often stated. The establishment of a base in the low $30 area has been a healthy and a necessary one for the technical resumption of the upward long-term trend.

In confirmation, silver has made a triple top breakout on the point and figure chart. This formation is one of the strongest of technical indicators that auger a pending upward rise.

Readers have asked whether silver is rising too fast in comparison to gold. Response: We have only to look at the gold-silver equation. What had been historically a dominating ratio of gold to silver is readjusting to reduce the preponderance of gold in this formula. It might appear that silver is rising too fast, however it is playing catch up to what is a narrowing of the gold to silver proportion. GST believes that since the historic breakout in silver in 2010, that the gold to silver metric would significantly decrease.

In response to the bullish and bearish factors in this scenario. . .

Bullish: Silver operates from a dual base acting as a safe haven for the rising middle class as well as its vital use in industry. Demand is soaring, while supply from existing mines is diminishing. This supports the bullish thesis. Whether the U.S. dollar can maintain its safe haven status is questionable. Add to this the tenuous position of the Eurozone and the future of the Euro. The supply of silver is extremely tight. There are few pure silver plays as it is mostly produced as a byproduct. For these reasons demand exceeds existing supply. Investors unable to do specific stock research should take a look at the silver miners ETF.

Is silver the new gold and is it going to be more of a safe haven as margin requirement increases hit gold? Interestingly, the biblical terms for money and silver are synonymous. GST believes that the appellation "poor man's gold" is not derogatory. Instead it refers to universality and fungibility as a medium of easy exchange in the banking and public sectors.

When Dr. Paul asked Dr. Bernanke, "Is gold money?" The answer might have been, "Yes, but silver is more so." By federal law, silver is money, exchangeable more easily than gold for goods and services such as in supermarkets, banks and gas stations.

What does this all mean for GST readers? Silver represents a rising area of importance in our everyday lives. It is ever present and growing in the age of the plagues of uncertainty, instability, turbulence, revolutions and fiat money. We expect silver to hit new highs along with the miners in 2011. Stay tuned to my daily bulletin for specific stock research and market timing.

Disclosure: Long SLV,GDX, GLD