The past few weeks have been fast moving with fearful investors clearly in control. As we all know fear is the most powerful force in the financial market and when the hedge funds and the masses get spooked they all dart in one direction like a school of fish. Watching the charts and volume levels it's clear that money was/is flowing out of stocks and into precious metals as the risk off safe plays. This was explained in last week's report on how the GLD etf can be used as a fear/sentiment indicator (
read here
).
To make a long story short, I feel as though Euro-Land is going through something similar to what we (the USA) went through in late 2008 and first quarter of 2009. Keeping my analysis simple and to the point it's very likely that Euro-Land will resolve their financial issues and their stock markets will bottom in the next month or so… If their market bottoms, so will the US market, which will be perfect timing as the market is currently oversold, sentiment is now turning bearish and we have had a sizable pullback in line with normal bull market corrections.
My thinking looking forward 2-6 weeks is that stocks rally, financials rocket higher, bond prices fall, gold falls and oil rises as it will be a risk off trading environment again. Of course all this would happen after Euro-Land resolves some of their key financial issues. I'm being very optimistic here but we could be nearing a major low that could kick start another massive one-year rally.
Stepping away from that longer term outlook let's take a peek at the shorter term trends for oil, gold and stocks.
Crude Oil 60-Minute Chart (1-Month View)
The recent price action for crude oil remains bearish/neutral in my opinion. We saw a drift higher into resistance with declining volume then a sharp pullback on heavy volume. This tells me oil remains in a down trend. It may be forming a base which would act as a launch pad in the coming weeks for higher prices but only time will tell and I will update as price unfolds.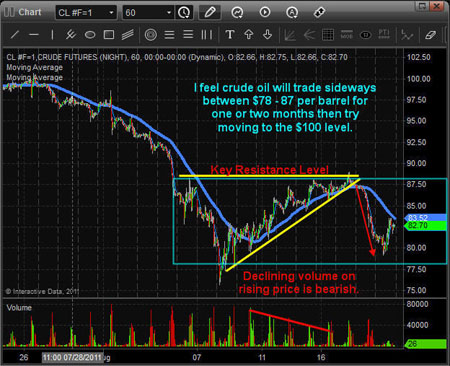 Gold 4-Hour Chart (One-Month View)

Gold has been performing very well for our entry point but the recent price action is starting to look toppy. Gold and many commodities regularly form this pattern of three wave pushes to new highs just before a sizable correction takes place. I am bullish on gold long term and for a few more weeks, but I do feel as though there will be a multi month correction in the price of gold soon so be sure to tighten your protective stops as price moves higher.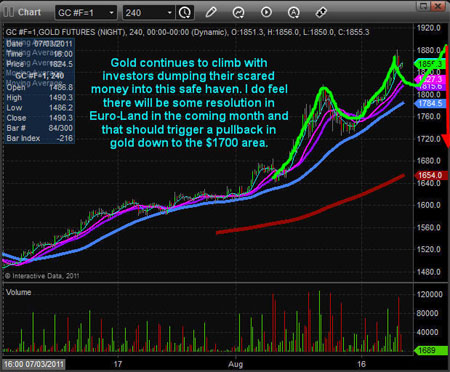 SPY ETF Weekly Chart (Two-Year View)

The stock market has been hit hard and a lot of damage has also been done to the charts on a technical stand point. The amount of damage and fear that has happening generally takes some time to stabilize and heal before another move takes place. Until Euro-Land resolves some of their major issues the U.S. market will be held hostage and under pressure. So I anticipate several weeks of volatility and wild daily price swings similar to what we saw in July of 2010.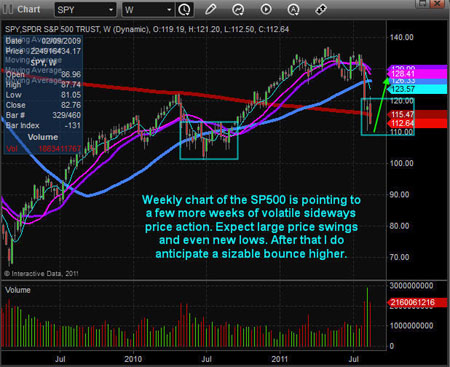 Weekly Trading Conclusion:

In short, the market price action is favoring very short term traders (day traders). We are seeing complete price swings which can normally be swing traded happen in just hours… Until we get another extreme setup or stabilization (less big headline news) in the market we will be more of a spectator than a trader to preserve capital.

Consider subscribing so that you will be consistently informed, have 24/7 Email access to me with questions, and also get Gold, Silver, SP500 and Oil Trend Analysis on a regular basis. Subscribe now http://www.thegoldandoilguy.com/trade-money-emotions.php

Chris Vermeulen