Silver held up surprisingly well during the stock market collapse—you will recall that we had expected it to take more of a beating—no doubt assisted by gold's sparkling performance, so that now, having held above strong support, and with a marked improvement in its COT structure over the past week, it is believed to be poised for a really strong upleg.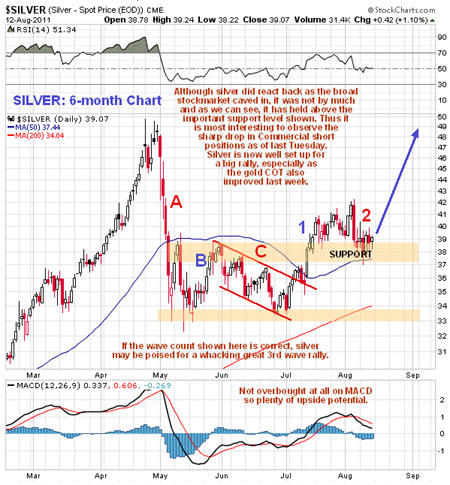 The six-month chart for silver shows HUGE upside potential, with a powerful uptrend starting from right where we are now. If the interpretation of the wave count is correct (this can be a big "if" of course, but it does look very clear at this point), then the point we are at now is close to the trough of the wave 2 reaction that should now immediately lead to a strong wave 3 uptrend, all this following the 3-wave A-B-C correction shown on the chart. Even without reference to wave theories the chart certainly looks encouraging as silver managed to break above the quite strong resistance in the $39.00–$39.50 zone on its wave 1 advance which is now functioning as a support level, in addition to which its moving averages are now in bullish alignment and it is not overbought on short to medium-term oscillators as made clear by the RSI and MACD indicators on the chart. Everything appears to be in place for a big rally to get going—"all systems go" as they used to say.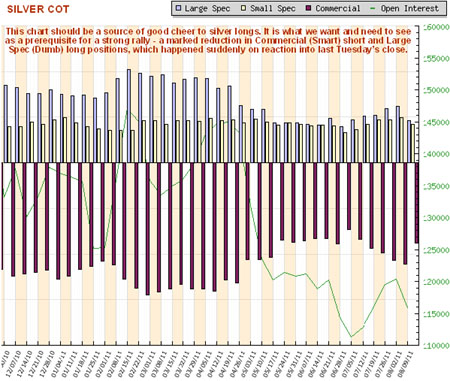 Further evidence that a big rally is brewing in silver is provided by the latest COT chart, which shows a surprisingly large reduction in Commercial short positions in just one week—the Commercials are getting out of the way, which signals a rally—and it may have just started with today's 85 cent rise.