In recent months, we've been talking and writing about a potential acceleration in gold. The chart said we were close, and in all honesty gold has actually been in a state of gradual acceleration since the 2008 low. Furthermore, we'd noted that in most secular bull markets, accelerations usually begin in the 11th or 12th year and are totally obvious by the end of the 13th year. Given the move of the past five weeks, there is no reason to think otherwise. An acceleration in the bull market has begun and will take gold to $2000/oz and quite a bit higher in the next 18 months.
In the chart below we show four different but parallel trendlines. Trendlines one and two contained the bull market from 2001 to 2005 while trendlines two and three contained the bull market from 2006 to early 2010. Since then the market has tried to break and hold above trendline four. It happened in April of this year and the recent low was a successful retest of the breakout. Secondly, we'd like to point out the strong Fibonacci targets at $1820 and $2300.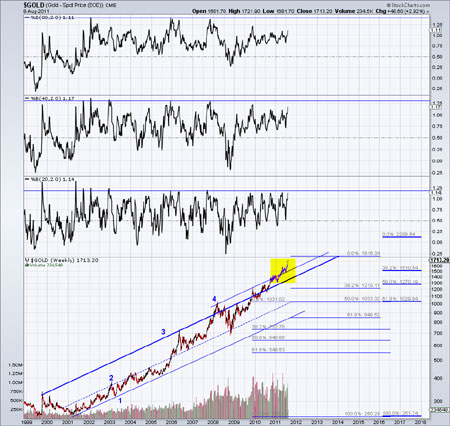 The next chart is a zoomed in look of the fourth trendline, which connects the 2008 and 2009 highs and the June 2011 low. The top indicator is a volatility indicator. If it breaks higher then it could signal the start of parabolic move. Gold now has strong support at $1580 to $1600. A $100 or even $150 pullback wouldn't change the current state of acceleration.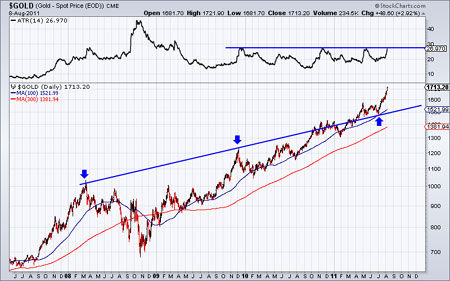 Sentiment has become more bullish but that is only a reflection of an acceleration in a raging bull market. More and more will pile in and the trend accelerates, but so too does volatility. Readers are advised to increase positions on pullbacks and to consider gold and silver shares, which are setting up for a fantastic 2012 and 2013. If you'd like professional guidance in riding and profiting from this acceleration then we invite you to consider our premium service.

Good Luck!

Jordan Roy-Byrne, CMT
[email protected]