Many of you likely rubbed your sleepy eyes in disbelief when you saw gold prices breach $1,675 an ounce in early trading, but you weren't dreaming. Gold danced above $1,675 into the wee hours of the night before settling in at $1,663.45 (at the time of this writing this afternoon).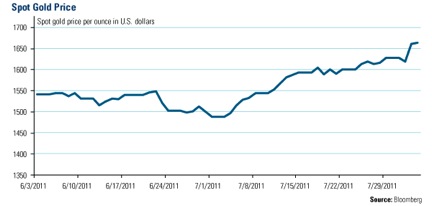 Since pulling back to $1,487 an ounce on July 1, gold has surged nearly 12%. Over the past 10 years, gold's normal volatility has been about 15%, so we've seen nearly a year's worth of price movement in just 34 days!

Does this mean we're due for a correction? Possibly. Gold could easily correct 5%–10%, but given today's current environment, I don't think that's what the crystal ball reflects.

Gold markets are clearly being affected by the Fear Trade. CNBC host Carl Quintanilla told me this morning that this run is "obvious to anyone who's watched markets over the past few months."

First, we were subjected to the antics on Capitol Hill surrounding the debt limit. Though the resolution wasn't enough to knock America's debt rating from its AAA pedestal, the market didn't digest the news very well. Bloomberg screens are red with uncertainty.

Second, a slew of poor economic data is signaling the U.S. is weaker than many, including our team, originally thought. Our Ralph Aldis said yesterday, "We can't grow our way out of this because there's no growth."

On CNBC and Mineweb, I provided my insight on recent gold developments today that I think you'll find useful. The first is a podcast discussion on gold and the current opportunity in gold stocks with MineWeb's Geoff Candy. We discuss gold's key drivers and calculating value among gold miners.

Listen Here

I also appeared on CNBC's "Squawk on the Street" to discuss what's driving gold.

Watch Here

By clicking the links above, you will be directed to third-party websites. U.S. Global Investors does not endorse all information supplied by these websites and is not responsible for their content.

All opinions expressed and data provided are subject to change without notice. Some of these opinions may not be appropriate to every investor. The S&P 500 Stock Index is a widely recognized capitalization-weighted index of 500 common stock prices in U.S. companies. The Dow Jones Industrial Average is a price-weighted average of 30 blue chip stocks that are generally leaders in their industry.

The following securities mentioned in the article were held by one or more of U.S. Global Investors Fund as of 6/30/2011: SilverCorp, Barrick Gold, Franco-Nevada, GoldCorp, Royal Gold, Gran Colombia, Newmont Mining.

Standard deviation is a measure of the dispersion of a set of data from its mean. The more spread apart the data, the higher the deviation. Standard deviation is also known as historical volatility.

The Nasdaq Composite Index is a capitalization-weighted index of all Nasdaq National Market and SmallCap stocks.