As I write this, the great debt debacle continues. The House vote on the GOP debt plan, scheduled to take place Thursday night, has been delayed. The markets finally seem to be pricing in the financial mess in Washington, as the S&P 500 fell 2% on Wednesday, and also closed lower on Thursday. Surprisingly, gold and silver have been declining this week as well. Although precious metals have pulled back recently, they still remain near key price targets. Furthermore, the pull back in gold and silver may signify that investors are giving Washington too much credit on being able to solve the debt ceiling crisis, and not focusing enough on other factors.
First, let's take a look at the technical analysis. As the chart below shows, gold is having trouble breaking through and holding $1625. Support levels to watch for gold can be found at $1605 and $1585. Although gold had trouble holding above $1625, gold could easily break through this level as the government looks less likely to pass a debt ceiling solution by August 2nd. It also looks inevitable that the U.S. will receive a credit downgrade, which should also be bullish for precious metals.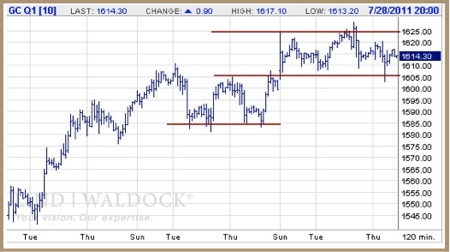 Much of what can be said about gold, can also be said about silver. Looking at the chart below, silver also has key levels of support and resistance. Silver has been struggling around $41 and support can be found between $38.50 and $39.50. Silver also has the added bonus of being an industrial metal, thus what can be said about silver, can't necessarily be said about gold.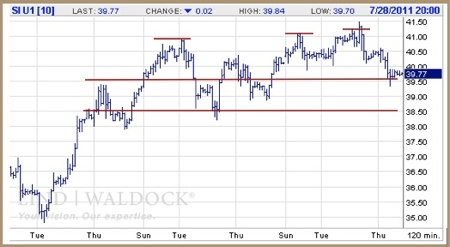 Moving onto the supply and demand side of percious metals, gold miner Goldcorp Inc. (TSX:G; NYSE:GG) made waves on Thursday. CEO Chuck Jeannes believes that China could pass India in gold demand. He explained, "Three or four years ago there was no one who would have expected Chinese physical demand for gold to surpass India. Now it looks like that could happen as early as the end of this year, and thatís while Indian demand is increasing." He also predicts that gold will reach $1700 an ounce by the end of this year.

For more analysis on our support levels and ranges for gold and silver, consider a free 14-day trial to our acclaimed Gold & Silver Investment Newsletter.

Disclosure: Long AGQ.