Gold: Super Strong
Gold has been shooting up this week, hitting one record high after another, hovering around $1600. Recently, it sold off on signs a debt-ceiling deal may soon be reached. Nevertheless, gold remains super strong.
This U.S. debt standoff has been dominating the markets, along with almost daily ups and downs in the Eurozone's debt crisis. That's especially affected the precious metals markets.
All About Safety
The flight to safety has been the primary market mover and this is unlikely to change in the weeks or months ahead. Sure, there will be short-term ups and downs based on news of the day. But the safety issue is key and it's going to continue.
This will keep upward pressure on the metals, especially gold since it's the world's #1 safe haven. And with the debt battered world financial situation increasingly dangerous and vulnerable, this balancing act will keep investors on edge and quick to run for safety.
It's also an important reason why worldwide demand is growing so quickly. This too is keeping a strong solid foundation under the gold price, boosting upward pressure.
Plus, the likelihood of the Fed enacting more stimulus measures to help the economy is yet another very bullish factor. And Bernanke essentially said they're prepared to go.
The threat of a possible downgrade to the U.S.'s credit rating, by the S&P and Moody's, heaped further pressure on Bernanke to "do something." Literally, the heat is on, and with the nearly 100 year old AAA rating at risk, you can be sure the Fed will be quick to act.
The same is true of the politicians. The warnings have been sounded around the globe. . .The bottom line is, a default would be "catastrophic," adversely affecting the world markets and economies, similar to what happened in 2008.
Silver Surges
This all helped push silver to $40, while gold and silver shares moved up as well. But, if a last minute budget deal is reached as we suspect, don't be surprised to see more short-term downward pressure.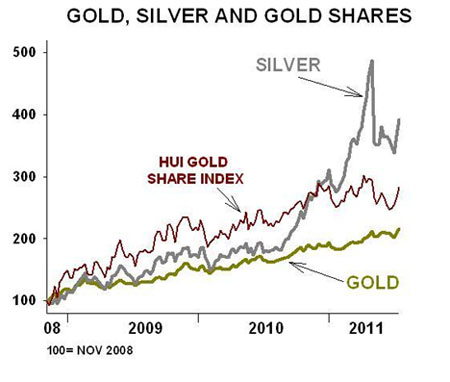 Since the crisis would be "resolved," at least for the moment, tensions would ease and the markets would likely relax, at least until the next crisis takes center stage. . .And the way things are going, that could happen in a matter of days.

All factors considered, the fundamentals and the technicals are, and will continue to be, super bullish. As you can see on the chart, that's been driving these markets up strongly since last year, with silver and gold shares clearly outperforming gold.

Gold, however, is now poised to outperform silver in the months ahead. In other words, there's a very good chance that gold will soon make up for lost time. In other words, it'll likely soon catch up to silver and gold shares as it continues to head higher.

Mary Anne & Pamela Aden are well known analysts and editors of The Aden Forecast, a market newsletter named 2010 Letter of the Year by Market Watch, which provides specific forecasts and recommendations on gold, stocks, interest rates and the other major markets. They are also editors of Gold Charts R Us, an in-depth weekly trading service. For more information, go to www.adenforecast.com.