The Globe and Mail, Nathan Vanderklippe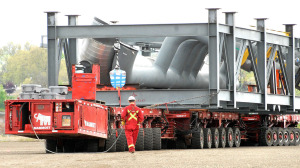 A controversial plan to transport oil sands equipment using scenic U.S. highways has hit another setback, after a judge ordered the state of Montana to stop issuing any permits that would enable the haul to continue.

The ruling comes as a victory for environmental and local advocacy groups in Montana, who have sought to stop Imperial Oil from moving 207 South Korean-built modules to the Fort McMurray area from an inland port at Lewiston, Idaho.

The Montana ruling alone is likely to create additional headaches for the company, which has already waited nearly a year to move some modules from their port storage.

A judge found that the Montana Department of Transportation, which must give permits for the over-sized loads to move, failed to adequately consider alternative routes. It also failed to properly assess the environmental impacts of the 75 road turnouts Imperial must build in order to haul the over-sized loads over two-lane mountain highways.

The department did not contemplate whether those turnouts will be temporary or permanent, the judge said. That consideration is important in determining whether the route will become a full-fledged industrial corridor for years to come.

"It seems that in order to determine the significance of impacts one must first determine the scope of the project," the judge ruled. "Whether the turnouts are left in place will necessarily effect [sic] whether the route will accommodate future loads of similar size."

The ruling, which the state said Wednesday it will appeal, makes the equipment haul "very problematic," said Tom France, a lawyer and regional executive director with the National Wildlife Federation, one of a number of groups that have fought the equipment moves.

Imperial can appeal the decision, or work to amend its environmental assessment work. But such efforts are not likely to be quick.