Ongoing default fears and currency devaluation continues to give investors
a reason to hold precious metals
. It also didn't help that Moody's is now suggesting that the United States simply remove the debt ceiling, in order to avoid default (despite S&P saying the US could still default with a debt ceiling raise). With the current monetary policy and confusion, it's easy to see how gold reached a new all-time high, but let's look how gold reached these new highs on a technical level.
Despite not being able to eat gold, investors still run to it in times of uncertainty. The chart below shows gold's steady step ladder rise since the beginning of July. Gold's rise on the chart is in a staircase pattern, which is known as a "Swiss stair accumulation." This technical formation is very bullish for gold. As you can see, the Swiss stair formation has taken gold from $1480, to a new all-time high above $1600. In fact, gold has climbed higher for 10 straight trading sessions.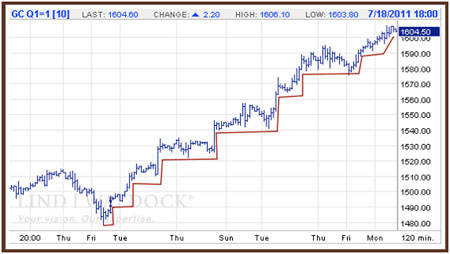 With gold's historic run, investors may be wondering when a pullback may occur. Although the gold bull cycle is still intact, pullbacks do occur. Considering the Swiss stairway formation on the chart, investors should be cautious if gold falls below $1,576. This was the previous low of the last large step. If gold falls below $1,576, the stairway will be in jeopardy of collapsing.

For more analysis on our support levels and ranges for gold and silver, consider a free 14-day trial to our acclaimed Gold & Silver Investment Newsletter.