Reuters
China's export restraints on raw materials violate international trade agreements—that's the conclusion of a World Trade Organization (WTO) report after a complaint by the United States, European Union and Mexico in 2009. Industry experts welcome the WTO's decision.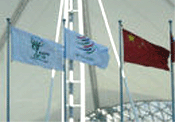 China's export duties and trade restraints for raw materials like bauxite, coke, fluorspar, magnesium, manganese, silicon carbide, silicon metal, yellow phosphorus and zinc violate China's commitments that it had agreed to in its Protocol of Accession and other WTO rules, says WTO's recent panel report.
China, a major producer of rare earth elements (REEs), imposes export restraints on these important primary products. The complainants argued that the use of trade restrictions would create scarcity and cause higher prices on the global market. China's industry, meanwhile, profits from domestic supply. Upon its accession to the WTO, China had agreed on eliminating export duties and quotas.
Industry Experts Welcome WTO's Decision
"China was not able to demonstrate that it imposed these restrictions in conjunction with restrictions on domestic production or consumption of the raw materials so as to conserve the raw materials," the WTO panel report states. Industry experts welcomed this outcome: "We consider the decision. . .by the WTO a good starting point toward other export restrictions and violations of WTO law that continuously take place worldwide," said Cefic, a European Chemical Industry Council. "Free and undistorted access to raw materials is important for the chemicals industry in the EU. Any distortions in pricing and access to feedstock have a direct adverse impact on the competitiveness of our sector, given that feedstock can reach beyond half of production costs." Cefic President Giorgio Squinzi had already stressed the need for a stable supply of primary products, raw materials and energy for the chemical industry earlier this year.