Maria Gallucci, SolveClimate News
Maryland's ambitious renewables goal and booming solar market have lured its third solar leasing firm this year, putting the state on track to substantially boost the rate of installations for rooftop systems.
SunRun, a San Francisco solar provider that owns, maintains and insures solar arrays and sells the electricity to homeowners, announced last week that it was teaming up with two Maryland installers to offer its services in the state for the first time.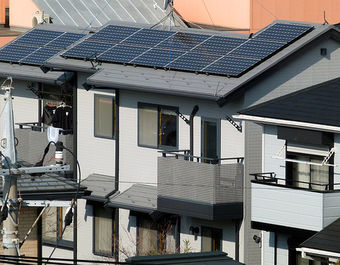 The company can expect competition from other California firms eager to tap a promising new market.

"That is a testament to the impact that the industry has had in the state," Ian Hines, a spokesperson for the Maryland Energy Administration, said of the leading solar companies' recent moves.

Hines said that his office was excited about the solar leasing model because it could allow more residents to purchase solar power from rooftop panels without paying tens of thousands of dollars in upfront equipment costs.

"We didn't particularly target [leasing] as a way to grow solar in Maryland, but that has been an organic outgrowth of the other successful policies that we've put in place," he said.

Those policies have helped to ramp up Maryland's solar capacity by nearly 20,000%—from 100 kilowatts in 2006 to more than 20 megawatts today. Solar jobs in that five-year frame are expected to jump from 900 positions to 1,200 at the end of this year.

In June, the Solar Energy Industries Association (SEIA) formally recognized Maryland's solar growth, deeming it a national industry leader.

The state's solar push is driven largely by its renewable portfolio standard (RPS), which requires that 20% of its energy come from clean resources by 2022. Two percent of that total must come from solar electricity and water heating systems.