Joongang Daily, Jung Seung-hyun
Korea badly needs rare earth elements (REEs), used in electronic products from smart phones to flat-screen TVs, but their import is getting increasingly costlier.
According to the Samsung Economic Research Institute (SERI), Korea should look to "urban mining" for some of its supply (extracting minerals from used and discarded products).
Korea currently imports over 95% of REEs from overseas, yet only a few Korean companies show interest in recycling these minerals from the tons of discarded appliances containing them, though some recycling is done to recover gold and silver.
The rare metal "reserves" in Korea's urban mines could total 85,800 tons, SERI said. In electronic devices alone, Korea has about 12.3x the amount of its annual REE imports of 3,000 tons.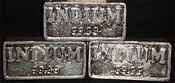 Rare earth imports rose from $3.3 billion in 2002 to $12.9 billion in 2008. In the same period, major REE prices tripled. And some, such as indium, which is used in mobile phones and liquid crystal displays, rose 8.5x. SERI said Korea should look to Japan, which has a huge urban mine of rare earths in reserves. In 2001, the government started recycling major REEs from appliances discarded by homes and offices.
After incorporating such recycling into law, Japan has seen a huge jump in the collection of elements from cars and electronic appliances. One high-tech company plans to source 10% of its rare earths from recycled sources.
SERI said urban mining business requires advanced technology and close coordination between the government and business world. It said the government should aggressively invest in research and development while companies must upgrade their technology.
"Urban mines should be widely spread around the country, so Korea can lower its overseas dependency and prepare for times in the future when the supply becomes vulnerable," said SERI Senior Researcher Jeong Ho-sung.