CNN GO, Ivy Zhang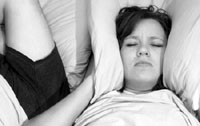 With egg box-style foam walls that can absorb loud frequencies and deflect sound waves, eight Crowne Plaza hotels in Europe have just finished a trial on specially designed "snore absorption rooms."
In addition to the anti-snoring pillow powered by rare neodymium magnets, other highlights include sound-snaring walls, a headboard designed to reduce the noise emitted by foghorn sleepers and a bed wedge that stops sleepers from lying flat on their backs, which "makes the base of the tongue and soft palate collapse to the back wall of the throat which causes snoring," according to the Crowne Plaza hotel.
The rooms came out as a result of research in the United Kingdom, which found that 3 out of 10 couples come close to splitting up because of snoring. It also suggested that more than 50% of couples lose between one and five hours sleep a night due to the snoring of their partners.
Five proven technologies the "snore absorption rooms" use:
An anti-snoring pillow that uses rare neodymium magnets to create a natural magnetic field, opening the airways and stiffening the upper palate, which vibrates during snoring.
Sound proofing on walls to absorb the loud frequencies, deflect the sound waves and minimize the impact of snoring.
A specially designed sound-absorbing headboard.
An anti-snoring bed wedge that acts as a body pillow, encouraging snoring guests to sleep on their sides or upright instead of lying flat.
A white noise machine, which is proven to help drown out the droning snoring noise and help sleep and relaxation.