Bloomberg with Associated Press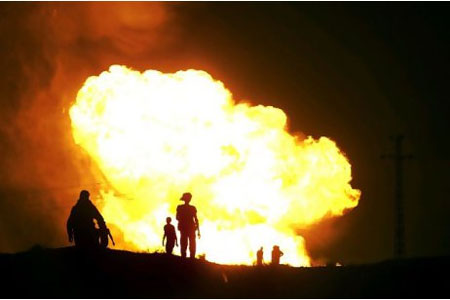 Masked gunmen blew up a terminal of the Egyptian natural gas pipeline to Israel and Jordan in a predawn attack yesterday, the second attack on the pipeline in as many weeks and the fourth since an toppled President Hosni Mubarak in February.

Yesterday's attack used the same methods as the previous one, Egyptian officials said.

The attackers ordered the guards on duty to leave and then blew up the terminal, starting a huge fire that sent flames shooting into the air and lit up the night sky, according to the officials. There were no casualties, they said.

The terminal is located in the city of El Arish in the northern part of Egypt's Sinai Peninsula, about 50 kilometers west of the Israeli border.

No one claimed responsibility for yesterday's explosion, but disgruntled Bedouin tribesmen in the area have been blamed for attacking the pipeline in the past. Islamists opposed to Egypt's 1979 peace treaty with Israel have also been suspected.

Israel receives about 40% of its gas from Egypt, and the latest bombing may further strain relations between the countries, said Moustafa El Husseini, an independent Egyptian analyst and author. The price of electricity in Israel could rise by 20 per cent as the country shifts to diesel and other more expensive fuels because of the supply outage.

The latest attack underscores the tension between Egyptian authorities and Sinai's Bedouin population, which has complained of economic marginalization and police brutality since Egypt regained control of the region from Israel in 1982, Mr. El Husseini said.

"The attackers probably did it to spite the government," he said yesterday. "Egyptian governments have been dealing with Sinai Bedouin as spies to Israel, not as citizens."