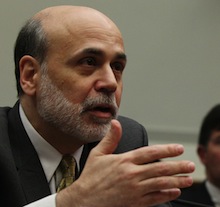 Federal Reserve Chairman "Helicopter" Ben Bernanke indicated that the U.S. economy is at a crossroads this morning, telling Congress the central bank is prepared to provide further stimulus. Investors reacted by dumping dollars, buying stocks and pushing gold to a new all-time high of $1,585. Silver, while still significantly below its 2011 high near $50, has advanced nearly 6% today.

While I have always expected QE3, whether they decide to use that name or not, Bernanke's comments seem to raise the likelihood of it happening. The markets certainly reacted in this light, although not all analysts agree that his testimony confirmed a new round of stimulus. He was rather wishy-washy about it, so I will let you decide:

"The central bank will continue to reinvest the original $600 billion into new Treasury securities and not reel the funds in as long as economic growth remains tepid." He went on to say: "The possibility remains that the recent economic weakness may prove more persistent than expected and that deflationary risks might reemerge, implying a need for additional policy support. Even with the federal funds rate close to zero, we have a number of ways in which we could act to ease financial conditions further. One option would be to provide more explicit guidance about the period over which the federal funds rate and the balance sheet would remain at their current levels. Another approach would be to initiate more securities purchases or to increase the average maturity of our holdings. The Federal Reserve could also reduce the 25 basis point rate of interest it pays to banks on their reserves, thereby putting downward pressure on short-term rates more generally. Of course, our experience with these policies remains relatively limited, and employing them would entail potential risks and costs. However, prudent planning requires that we evaluate the efficacy of these and other potential alternatives for deploying additional stimulus if conditions warrant."

The truth is that the stimulus money was spent incredibly inefficiently and pumped into the wrong sectors of the economy, helping Wall Street immensely, but providing little relief for Main Street. It helped to boost stocks in the short term, but the effect has already run its course and unemployment is climbing again, back above 9.2% officially and at a new record high of 22.7% using honest calculations.

The law of diminishing returns further complicates the issue, necessitating an ever-increasing amount of new stimulus injection in order to provide the desired effect. Furthermore, this is coming at a time when the country is faced with the potential of defaulting on its exploding debt, while passing the milestone 100% debt-to-GDP ratio that most economists believe is the point of no return. A slippery slope indeed. A more accurate estimate, when including unfunded liabilities, is closer to 500% debt-to-GDP ratio. And we are pointing fingers at Greece, Portugal and Italy?

Bernanke also changed his tune somewhat on the threat of inflation this morning. He had previously argued that higher consumer prices are merely "transitory," but seemed more vigilant of inflationary pressures. Maybe he went grocery shopping?

"Given the range of uncertainties about the strength of the recovery and prospects for inflation over the medium term, the Federal Reserve remains prepared to respond should economic developments indicate that an adjustment in the stance of monetary policy would be appropriate," he said.

Combined with the approaching potential of default and the ongoing debt crisis in Europe, I'd say the Summer doldrums for precious metals have likely ended early this year, as both gold and silver are poised to continue pushing higher. A small pullback might be in store after the incredible run so far this week, but my money says that we have reached a bottom. Gold is likely to climb towards $1,800 and silver should easily take out $55 by year end. It could happen even sooner if partisan politics continue to override the need for concrete steps to get the financial house in order.

I have held our core positions in the Gold Stock Bull portfolio during this correction and added new positions in the past few months. Many of the junior miners we hold are up 20% or more in the past week and I believe several of them have the potential to double within the next 12 months.

If you would like to follow which stocks I am holding, as well as receive email alerts whenever I am buying or selling, please consider becoming a Premium Member. You will also receive the highly-rated monthly contrarian report and my Common Sense Guide to Surviving Economic Crisis. It costs around $1 per day and you can cancel at anytime if you aren't 100% satisfied. Click here to sign up now!