Vietnamnet Bridge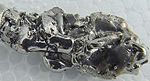 Licensed to build seaside resorts to attract tourists to the Province of Binh Thuan, some have been mining for titanium right at their project sites instead. Many resort projects have made little or no progress in Binh Thuan since they were licensed years ago. Rather than moving construction equipment to their sites, some companies have mobilized titanium mining tools and machines to their land lots.
Director of the Province's Department of Natural Resources and Environment Huynh Giac said Thursday that developers of large resort projects, such as Saigon-Ham Tan and Canh Vien, had been mining for titanium at their resort construction sites for more than a year.
Surprisingly, titanium mining at Saigon-Ham Tan and Canh Vien resort sites has been approved by the provincial government.
Giac said many other delayed resort projects in the province had proposed extending construction time in order to extract all titanium at the sites before work started on their resort projects.
"Haphazard titanium mining has left many sand dunes being razed to the ground and even caused environmental pollution," said Giac.
A fact-finding trip to the construction site of Saigon-Ham Tan Resort in La Gi town late last week found at least three titanium-screening machines operating in a large lake, and several large holes were spotted over a large area of deserted sand dunes.
The province has allowed developers of big resort projects to extract all titanium at their sites, but benefits to the province from those mining projects are insignificant because the titanium is exported directly to China at US$50–US$70 per ton, Giac said.
"From this July onward, the provincial government will not allow the exploitation of titanium at resort projects while urging the already-licensed projects to swiftly start construction work," he said.