Resource Investing News, Michael Montgomery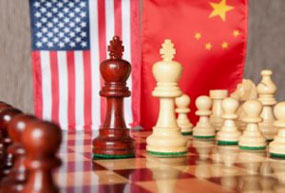 The World Trade Organization's recent ruling against China's trade policy may spawn a battle over rare earth element (REE) policy. The ruling stated China's export duties, quotas and minimum export price of coke, fluorspar, manganese, zinc and other commodities conflicts with WTO trade practices. China has instituted many of these same measures for REES, causing supply to diminish.
Analysts state the ruling against China may entice the EU and U.S. to bring up a trade dispute with China over REEs. However, Hallgarten Mining Strategist Christopher Ecclestone disagrees due to factors Western governments can't avoid, and offered some insight on the potential for future trade disputes with China and the effect on REE miners.
China's government has maintained its position that the production cutbacks are due to environmental-protection policies. REE production generates massive amounts of environmental toxins—1 ton of REE produces ~9,600m–12,000m of acidic waste water and ~1t of radioactive waste residue.
"[China] will take refuge in its environmental-protection policy. Its government can say that the world has been coming down on China for pollution, and it cut production because it was destroying the environment. . .that means it's producing less," said Ecclestone.
China's government has been telling the world for years it was planning to make production changes. Outside the country, governments and REE consumers have known the cutbacks were coming, yet few took the necessary steps to create a secure supply chain.
"The Chinese sent a lot of warnings about what it was going to do, that it didn't have bottomless pits of REEs and that it wants the supply for domestic industrial uses. . .the Chinese could keep it in the ground if they wanted to," stated Ecclestone, adding, "There is no shortage of REEs outside of China, however, everyone has been waiting for someone else to produce."