CTV, Ben O'Hara-Byrne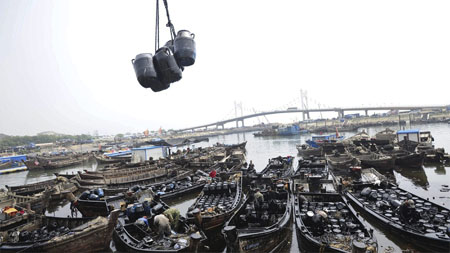 China's ocean administration wants companies operating offshore wells to be more transparent after two oil leaks seeped into water off the country's eastern coast unbeknownst to many local fishermen and residents last month.

China's State Oceanic Administration issued a notice Friday asking offshore oil producers to investigate any risks, review their emergency planning and assess the environmental impact of their operations.

The orders come after two oil spills polluted 840 square kilometers of China's Bohai Bay.

Both spills, which happened in fields operated by American energy giant ConocoPhillips, weren't formally announced until early July—weeks after the first leak was noticed.

Since then, environmentalists and local media have criticized the state and ConocoPhillips China for not notifying the public quickly enough.

Some residents in coastal communities were kept in a fog about the spill for nearly a month.

"I got the information from the TV news," a fisherman near the affected Bohai Bay told CTV News.

But ConocoPhillips China, which operates seven platforms in the affected area, argues it told authorities about the leaks the day they were found.

Any delay in details from the first leak, they said, was due to difficulty tracing the seepage from a natural fault.

According to ConacoPhillips, drilling has been suspended until the company ends its investigation into the leaks.

The State Oceanic Administration said 3,000 meters of sea booms and other devices were used to help clean up the spill, which has also raised widespread concern over the community's fisheries industry.