Financial Times, Leslie Hook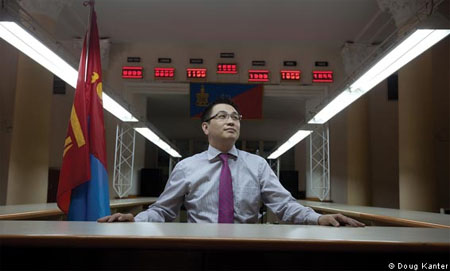 At first glance Ulan Bator hardly looks like a boom town. The city center is a charmless confusion of Soviet vanity projects, office buildings and dilapidated apartments, while on the edges of town ghettos of gers (yurts) spread up the mountainside. To a casual observer, the only hints of a mining boom might be the abundance of taverns and the Landcruisers that jam the streets.

But outside the town one Friday night, a crowd of investors shimmying around an outdoor bonfire paints a picture that is in some ways more revealing of Mongolia today. Pop hits pulse through the air and vodka flows unrelentingly as people start to dance to the beat of DJ Zola, who spins out of the back of a truck. The party is one of the pitstops on a tour for fund managers and investors from London, New York, Moscow and Zurich who have come to see the opportunities on offer in Mongolia.

Mongolia is one of the world's last great mining frontiers, a freak of geology with more than $1,000B in probable mineral deposits. But it wasn't until the Soviet era that geologists seriously explored Mongolia's deposits.

Even hardened mining hands tend to start using superlatives when they talk about Mongolia. Ed Rochette, a former senior vice-president with Ivanhoe Mines who spent his career securing mining licences in far-flung corners including Burma, the Democratic Republic of the Congo, Indonesia and Kazakhstan, says it's unlike anything he has ever seen. "Two years ago I would have 20 projects come to me, and almost no investors. Today I have 20 investors, and almost no properties," he says. "I've been in Mongolia for 10 years, but this story is just beginning."