New York Times, Andrew Kramer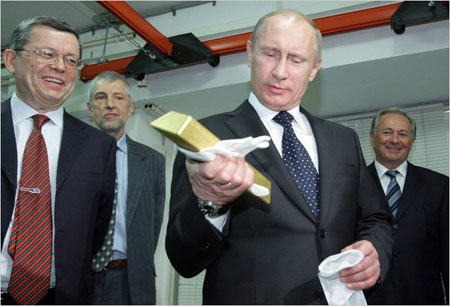 Two years ago during the global recession, gold bugs took note when Russia's president, Dmitri A. Medvedev—taking a swipe at the American dollar—proposed that central banks hold reserves in what would be a new, gold-backed international currency.

But more recently, as gold prices have soared—in part on market expectations that central banks will begin adding to gold reserves as a buffer against global uncertainties—Russia is not following its own advice.

Far from hoarding gold, Russia is selling it. The country's domestic gold mining industry has continued to sell onto international markets. Russia has also eased gold trading rules to hasten gold's mining and export.

Meanwhile, the Russian central bank is buying gold at a desultory pace that is barely keeping up with its overall accumulation of foreign currency reserves.

In short, Russia is selling gold because this has been a seller's market—and the nation needs the money. After years of surpluses before the recession, Russia's federal budget has slipped into a deficit. And economists predict that Russia could also run a trade deficit within a few years.

Russia was the fourth-largest gold producer globally last year, following China, Australia and the United States.

When asked about Russian supposed commitment to holding gold, the central bank issued written responses.

"The bank of Russia is not committed to buying any particular amount of gold," the bank said. "Nor is there any official target amount of gold purchases. The bank buys gold at a market price, and its buying intentions completely depend on the market conditions."

Gold as a share of Russia's central bank's reserves has actually increased—to 7.8% of the total this year, from 5.3% in January 2010. But nearly all of that gain is because of the rising value of the gold over that period.