Fox News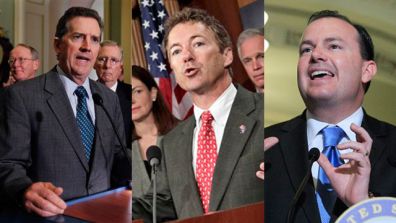 With the economic recovery on life support, three Tea Party-backed senators are betting on gold to reverse the nation's fortunes.

Republican Sens. Jim DeMint of South Carolina, Rand Paul of Kentucky and Mike Lee of Utah unveiled legislation Tuesday that would keep Uncle Sam's hands off of gold and silver coins that have been declared legal tender by the government.

The Sound Money Promotion Act comes after Utah became the first state to recognize those coins as legal currency and exempted the sale of gold from the state capital gains tax.

The U.S. Senate legislation simply states that "gold and silver coins declared legal tender by the federal government or any state government shall not be subject to taxation."

"In order to rebuild strength and confidence in our economy, we need both the fiscal discipline to cut wasteful spending and the monetary discipline to restrain further destructive monetizing of our debt. This legislation would encourage wider adoption of sound money measures, and that's a step in the right direction," DeMint said.

Twelve other states have considered following Utah's lead: Colorado, Georgia, Montana, Missouri, Indiana, Iowa, New Hampshire, Oklahoma, South Carolina, Tennessee, Vermont and Washington.

The Senate proposal amounts to nothing more than a symbolic gesture since it has virtually no chance of passing in the Democrat-controlled upper chamber.

Lee, the Utah senator, claims the dollar has lost approximately 98% of its value since the Federal Reserve Act of 1913.

"This bill is an important step towards a stable and sound currency whose value is protected from the Fed's printing press," Lee said.