Reuters, Mitra Amiri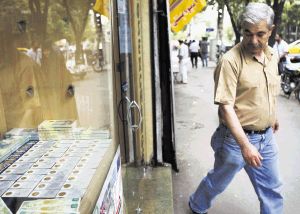 Leafing through an old family photo album, 74- year-old Molook Amini wished she could afford to buy a gold coin as a wedding gift for her youngest grandchild as she did for others.

"It was always a tradition to give gold coins to close family members on special occasions. This year for the first time I cannot afford to do it anymore."

Iranians have a long history of buying gold coins, widely available from dealers in high street shops and bazaars. But recently, the steady demand has become a rush.

Amid global economic uncertainty, the price of gold on world markets rose steadily in the first half of this year. But rather than cashing in coins for profit, Iranians continued to buy them in ever larger numbers.

"Usually, as the price of an item increases, demand will decrease. But in the case of gold, it seems that higher prices are creating more demand," says a gold retailer in Tehran.

The Iranian gold rush is mainly driven by fears about the domestic economy.

In addition to concern about a global double-dip recession, the economy has been hit by sanctions as the US leads global pressure on Tehran over a disputed nuclear program.

"The reasons people are drawn to these safe assets—gold coins and hard currency—are a limited choice of investment opportunities, and fear from the weakness of the national currency," says an economist who asks not to be named.

Treasured as a store of value, Iran's gold coins, minted over centuries, are also culturally important. They were traditionally stamped with the faces of kings.

Grandma Molook hopes she might still find the money to buy her granddaughter the gold coins. "I'm afraid I'll have to buy her a household appliance. Or just give her the cash."