Christian Science Monitor, Aarti Betigeri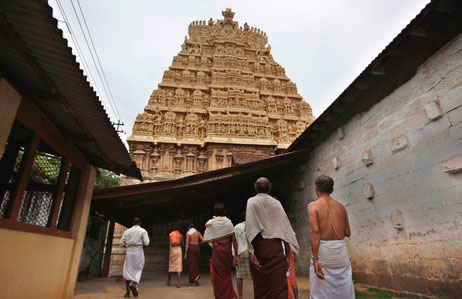 It's a find worthy of a "Raiders of the Lost Ark": Jewels, gold trinkets, coins, and statues worth roughly $22B were uncovered in a secret vaults beneath a Hindu temple in Thiruvananthapuram.

The loot includes about 2,205 pounds of gold coins (some dating back 400 years), gold ropes, sacks of diamonds, a gold statue of Vishnu studded with precious gems, an 18-foot solid gold ornament weighing 77 pounds and rare silver and brass platters. . .worth nearly double India's 2011–2012 education budget ($11.61B).

And there's still another vault to be unlocked. The 16th century Sri Padmanabha temple in the capital of Kerala is now considered the richest of India's temples.

So, where did the riches come from?

The temple is controlled by descendants of the royal family of Travancore. It's believed the former rulers donated much of their wealth to the temple, where it lay for decades. Offerings by many worshippers making pit stops there along the global trade routes probably also contributed to the treasure.

This was no accidental find. While the vaults have been under lock and key for 150 years, the wealth has been on public record.

Still, officials who unlocked the vaults said they were surprised about what they found inside. . .and its value. A delegation opened the chambers after a local lawyer filed a court petition, suspicious that the fortune wasn't being adequately protected by the temple's governing body.

Debate now brews over just what should be done with the fortune, given the millions of Indians who live in poverty. Hindu leaders want it invested into the temple, but many others are calling for it to be used for the public good. The state government insists it will let the temple keep the riches, and will even provide permanent security to safeguard it.