It's often said that commodity shares should lead the actual commodities. While this isn't always the case, it often is at market turning points. Months back, we noted the relative weakness in gold and silver shares and deemed it a reason for caution. It took more than a few weeks but our caution was vindicated as gold and silver shares fell more than 20% in April and May. Now we are seeing the reverse, which should delight gold bugs and gold bulls alike.
In this weekly chart, we show GDX (large caps), GDXJ (large juniors) and GLD (gold). Note how the shares peaked at the beginning of April while gold continued higher for the next three weeks. In the past two weeks, gold has closed lower but the gold shares did not. The gold shares led the market down at the most recent top and are now sporting a positive divergence that comes at a time when they are bottoming. That makes the divergence more meaningful.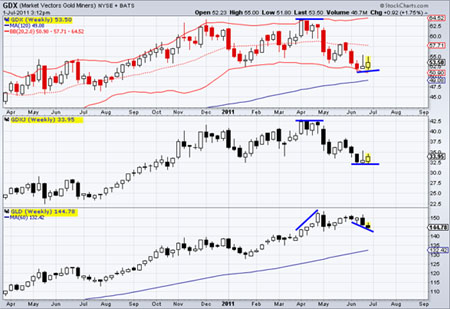 Moving along, we see the same situation in the silver sector. Our chart below shows SIL (large silver miners) and SLV (silver). SIL peaked the first week of April while silver zoomed higher for another three weeks. Now we have the reverse. SIL closed at a weekly low two weeks ago and has since gained while silver closed at a new low last week and this week.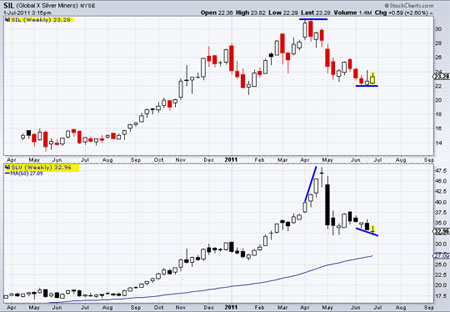 In recent weeks, we noted that the shares were oversold, underowned and due for a bottom. It has taken a few weeks but now it has become more apparent with the positive divergence from the metals. Divergences as such (especially on a weekly scale) tend to come at important tops and bottoms. Furthermore, the market is back in a risk-on mode as risk assets recover. When bonds rally and risk declines, gold holds up very well but the stocks do not. Now we are seeing the opposite, which benefits the shares against the metals.

We do not expect the shares to race back to new highs quickly but, more important, a significant bottom is likely in and the risk in the shares is much smaller than only a few months ago. If you're looking for more analysis and professional guidance, we invite you to learn about our premium service.

Good Luck!

Jordan Roy-Byrne, CMT
[email protected]