Smart Money, Bill Bischoff
Some owners of individual retirement accounts still have bad vibes about the stock market. However, the safest fixed-income investments are paying microscopic returns, and the risk of inflation remains worrisome. That's why investing some IRA money in gold or other precious metals (PMs) might be appealing.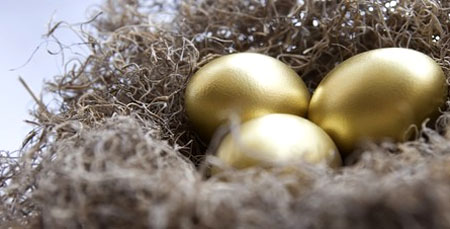 Physical IRA Ownership of PM Coins and Bullion

The Internal Revenue Code allows IRAs to own certain gold, silver and platinum coins, as well as gold, silver, platinum and palladium bullion that meet applicable fineness standards (e.g., an IRA can own American Gold Eagle coins, Canadian Gold Maple Leaf coins, American Silver Eagle coins, American Platinum Eagle coins and gold and silver bars (bullion) that are 99.9% pure or better. Some well-known gold coins, including the South African Krugerrand, are off limits, as are bullion bars that aren't sufficiently pure. The coins or bullion must be held by the IRA trustee rather than the owner. These tax rules apply equally to traditional IRAs, Roth IRAs, simplified employee pension (SEP) accounts and Simple IRAs.

The big issue with IRA ownership of PM assets is finding a trustee who's willing to set up a self-directed IRA, handle the transfer of funds to the PM dealer and facilitate the physical transfer and storage of the coins or bullion. None of the major brokerage firms will play, leaving only a handful of outfits in the game, including Sterling Trust, American Estate & Trust, GoldStar Trust and the Entrust Group.

The trustee typically charges a one-time IRA set-up fee (perhaps $25–$50), an annual management fee ($75–$250) and an annual fee for storing and insuring coins or bullion ($125–$250).

IRA owners usually have to find their own PM dealer to sell coins or bullion to the IRA or to buy coins or bullion from the account.