Gold Investing News, Damon van der Linde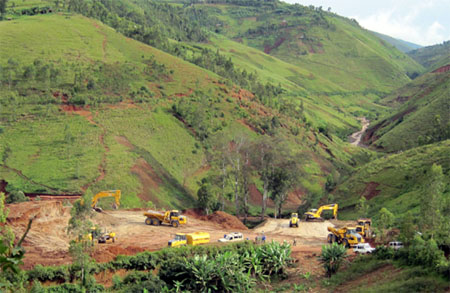 The Twangiza Project in the Democratic Republic of Congo will be the country's first industrial gold-mining operation to open in more than half a century.
This opening of this mine marks the end of a long hiatus from industrial gold mining in the DRC, which has fallen into the realm of numerous small-scale artisanal mines, notorious for funding competing armed groups in the area.
Located in the east of the country, South Kivu, along with North Kivu, has been the center of the conflict resulting from the Second Congo War. In July 2007, United Nations human rights expert Yakin Erturk called the situation in South Kivu the worst she had ever seen in "four years as the global body's special investigator for violence against women." However, a representative of the mining company reports that projects have not been severely affected by conflict.
"We have a very good relationship with the government. We've seen the country improving steadily and our mine and our situation have reflected that," the representative said. He also noted, ". . .as cash flow comes off, we can further drill out and put into production further resources. We have 11 million ounces of resources; so even though, these specific mines have an initial life given to them, the gold belt that we are developing has a very long life."