CNN Money, Steve Hargreaves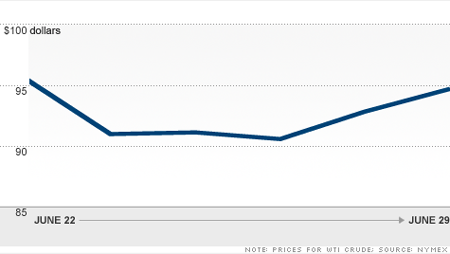 Oil prices have surged in the last few days and are now less than a dollar from where they were when President Obama made the controversial decision to tap the nation's strategic reserve last Thursday.

As of Thursday morning, West Texas Intermediate crude traded up $0.19 at $94.96/barrel. That's nearly $5 over last week's lows following the oil release announcement.

Oil's stubborn refusal to trend lower since the U.S. and other industrialized nations announced they would flood the oil market with 60 million barrels of fuel over the next 30 days is raising questions over what's driving the market—fundamentals or pure speculation?

The more conventional theory is that oil's rise is related to fundamentals—or, at least, the falling dollar.

"Oil is not up all that much more than the dollar is down," said Greg Priddy, a global energy analyst at the Eurasia group, a political risk consultancy.

Priddy says if oil reserves weren't tapped, oil prices would simply be higher.

There's another view as to why prices have rebounded so quickly. The sheer amount of investor money flooding into commodities markets is overshadowing any supply and demand numbers.

The amount of oil contracts that 60 million barrels generates is tiny compared to the amount of that is traded on financial markets every day, said Tim Evans, a futures analyst at Citigroup.

"The futures and options markets trades that in an hour," said Evans. "The only fundamentals that matter are the ones that the paper market decides that matter."

Evans noted that oil prices jumped 2% Wednesday, partly on the back of a report showing a 4.6 million barrel drop in U.S. commercial oil inventories.

"The market is saying that a 4.6 million barrel decline is more important than 60 million barrels being released," he said.