Globe and Mail, Richard Blackwell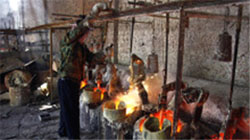 Companies planning to extract rare earth elements from the earth's crust saw their shares skyrocket in the past year, as worries about China's stranglehold on current supplies lit a fire under this segment of the mining industry.
Now that the stocks have settled back, individual investors may be wondering if this is the time to get on the bandwagon. Rare earths are increasingly critical in high-tech manufacturing, but is it too risky to place a bet on the sector when most companies are still years from production?
"For the right investor, if they do their homework, there still are opportunities. . .real value in this space," said Byron Capital Markets Analyst Jon Hykawy. As with other mining sectors, investors should look for companies with high-grade deposits that will eventually be low-cost producers, he said.
While many companies in the sector have seen their shares weaken recently, some of the rare earth exploration firms are still overvalued, Mr. Hykawy said, because investors "got caught up in hysteria" after China said last year it would limit its rare earth exports. Others, however, can still look forward to impressive gains, he suggests.
Mr. Hykawy has four 'buy" recommendations in the sector, companies he thinks will be in a position to get rare earths on the market fairly quickly and whose shares still have room to move up. All trade on the TSX or TSX Venture exchange.
Among these are
Rare Element Resources Ltd. (TSX:RES; NYSE.A:REE)
, a Vancouver-based company with a deposit in Wyoming that has "available infrastructure in a good mining jurisdiction," Mr. Hykawy said, and Halifax-based
Ucore Rare Metals Inc. (TSX.V:UCU; OTCQX:UURAF)
, which has an Alaskan project that could get support from the U.S. government.