Northern News Services, Thandiwe Vela
A heated staking rush for rights over prospective rare metal-rich land, just northwest of Avalon Rare Metals' Thor Lake Project, has resulted in the first disputed land claim in recent mine recorder history.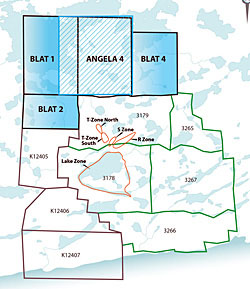 As soon as the land—within 1,000 meters of Avalon's "pretty spectacular" rare earth deposits—opened up for staking, Geologist Jody Dahrouge of Dahrouge Geological Consulting had his team and prospecting partners at Zimtu Capital stake the area, within the north-central part of the Blachford Lake Intrusive Complex, Dahrouge said.
Dahrouge and company staked three claims, totaling about 12 sq. km., located about 1,500m northwest of Avalon's Nechalacho rare earth element deposit.
When they arrived at the Aboriginal Affairs and Northern Development Canada mining recorder's office to submit their claim on Jan. 25, they were surprised to find that stakers out of the Avalon camp had beat them to the punch, with a claim overlapping a large portion in the center of the Dahrouge claims, already submitted by Avalon Site Supervisor Randy O'Keefe.
"Whenever there is valuable ground like that, claims overlap," Zimtu Director Ryan Fletcher said. "It was an old-fashioned staking rush for a good piece of property."
According to mining recorder records, O'Keefe's claim was submitted Jan. 14 but is still pending because Dahrouge filed a protest to claim priority, arguing the claim was not walked according to staking regulations.
Before a claim is valid, companies are required to walk the perimeter of their claim clockwise, placing corner posts at the boundaries. In the NWT, it's common practice for companies to fly helicopters above claims and drop corner posts, instead of walking the boundaries.
Supporting documentation for the disputed claim is accepted from both sides and, if necessary, the mining recorder office will dispatch a claim inspector to the field to investigate.