The Street, Chao Deng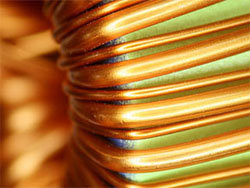 Positive trends overnight on Asian and European markets were pushing copper prices toward the upside this morning. After investors took safe haven in the greenback yesterday, a slight easing in the dollar index was also helping copper make gains. The copper rebound came alongside increases in several other commodities, including lead and tin.
Copper futures were trading up 1.1% at $9055.75 per ton, erasing yesterday's losses. July futures for copper were trading up $0.08 at $4.12/lb. on the COMEX in New York, after settling Thursday at $4.04. On the London Metals Exchange, three-month copper contracts closed down one cent at $4.07/lb.
The euro was losing 0.3% against the greenback. The dollar index was gaining just 0.371%, after closing up by 0.5% yesterday.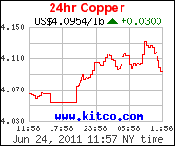 Rising equities in China and falling inventories in the country's warehouses gave a boost to the red metal, according to a report from RBC Capital. Chinese markets overnight rallied due to comments from Premier Wen Diabao that Chinese officials were increasingly optimistic that inflation would ease later in the year.

"We are still of the opinion here that prices will likely see one more push lower before the summer is out but are watching equity prices in China now very closely for a close above chart resistance levels as a barometer of short-term direction for the copper price," said RBC in a report Friday morning.