WESH Orlando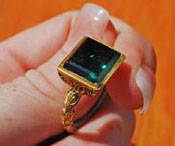 Treasure hunters searching for a 17th-century Spanish galleon ran across another find—a gold and emerald ring worth $500,000.
Found about 35 miles west of Key West on Thursday, the ring is estimated to be 10 karats.
The ring is believed to be from the Nuestra Senora de Atocha ship that sank off the keys during a hurricane in 1622, according to tourism officials.
The stone is about 1 inch on each side. It was found along with two silver spooks and several other artifacts.
The crew had earlier found a 40-inch gold rosary in the same area in March and a gold bar in April.
More than $450 million in artifacts and treasure from the ship was recovered in 1985 by the crew from Mel Fisher's Treasures, but the stern castle of the ship has never been found.