Associated Press, Steve Szkotak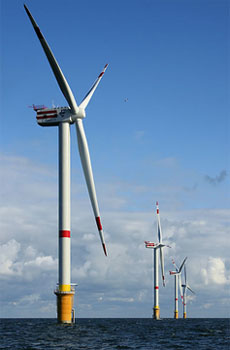 Defense officials, the commercial fishing industry and the Virginia Port Authority said Wednesday they all have interests that need to be considered during the siting of wind turbines in waters off the coast.
While each said those possible conflicts could be worked out, their comments underscored what one official called the very busy waters off Virginia that are being considered for the development of the renewable energy.
Ships home ported at Naval Base Norfolk, the world's largest naval base and home to the East Coast's carrier fleet all sail in these waters and conduct a variety of trials, some including live weapons.
The state's port, the sixth largest in the nation, also has concerns about huge wind towers possibly interfering with shipping lanes.
The concerns and possible conflicts were discussed by a panel at the Virginia Offshore Wind Conference. The conference brought together advocates of offshore winds, government officials and industry representatives.
The various interests on the panel said they wanted their concerns known now before the ocean bottom is carved up for offshore wind farms.
"I think that's the whole idea, to create the awareness with those who are going to decide where the proper siting is for offshore development," Jeff Keever of the Virginia Port Authority said after the panel discussion.
"Hopefully they can make a better informed decision that eliminates conflict, or certainly reduces conflict with commercial shipping, considering that shipping plays such a vital role in the economy of the commonwealth," he said.
An official with the Department of the Interior played down the differences, and said leasing offshore tracts could begin as soon as 2012. That would then trigger at least two years of environmental reviews.