Associated Press, David Germain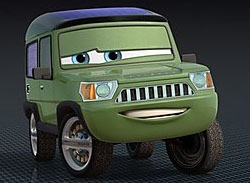 Even the animated world of Lightning McQueen and tow truck Mater is testing new energy sources to replace fossil fuels.
Pixar Animation mastermind John Lasseter says the company has no environmental agenda, but with "Cars 2," it does tap into today's eco-mindedness with a plot driven by oil vs. a cleaner alternative.
"Cars 2" sends race car Lightning McQueen on a World Grand Prix circuit whose organizer fuels the vehicles with a green alternative called Allinol, prompting the bad guys to try to discredit the new power supply that threatens traditional gasoline.
That lands Lightning's goofy, lovable pal Mater in the middle of a spy caper as two British secret agent cars seek to uncover who's behind the plot.
For director Lasseter, the idea developed the same way as other aspects of the film franchise that began with 2006's "Cars," as he and his Pixar pit crew looked for ways to "car-ify" our world into one inhabited by talking automobiles.
In a universe of cars, "What would a bad guy do?" Lasseter wondered.
"With 'An Inconvenient Truth' and alternative fuels and all the things going on, I kept thinking, well, in their world, it could be neat to have sort of big oil vs. alternative fuel," Lasseter said. "It makes logical sense for a world where cars are alive."
Based in environmentally conscious Northern California, Pixar's flirted with energy and ecological themes before.
The 2008 sci-fi smash "WALL-E," a wildly inventive cosmic romance between two robots, also was a cautionary tale about pollution as the last robot on earth toils to clean up the planetary mess after humans flee to the stars.
The 2001 "Monsters, Inc." had a realm of scary beasts mired in an energy crisis until they switch to a more benign fuel source—the laughter of children.