Greenbang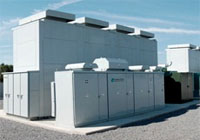 Two large sodium-sulfur battery systems will help keep the lights on for residents of a mountain area of British Columbia.
A local utility company will use the systems from S&C Electric to provide not only backup power but also to help reduce peak loads on the grid. By doing that, the company hopes to avoid the expense of building new transmission capacity to meet peak demand.
The energy storage systems are funded in part by Natural Resources Canada's Clean Energy Fund.
The battery systems will be installed in two remote mountain communities: Field and Golden. They will use a unique peak-shaving application in which load is directly monitored and stored energy injected as needed.
"We continue to develop new energy storage solutions relying on distributed intelligence to help both communities—and the utilities that operate these systems—maximize benefits from these new technologies," said Jim Sember, vice president of power quality products for S&C.