Puget Sound Business Journal, Ben Miller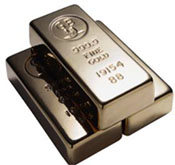 The government of Venezuela's seizure of Gold Reserve's Brisas gold mine project two years ago has led to possible delisting of the Spokane company from the NYSE.
Gold Reserve is a Canadian gold-mining company with U.S. headquarters in Spokane. On Monday, the NYSE sent the company a warning, saying that because its key asset—the Venezuelan Brisas gold and copper mine—has been seized by the government, it faces delisting from AMEX.
Gold Reserve had spent $300M in developing the Brisas mine, according to President A. Douglas Belanger. The mine, he said, contains $25 billion and $4 billion worth of mineable gold and copper.
But when the Venezuelan National Guard seized the mine in October 2009, it led to an international court battle that is progressing slowly. Belanger said Gold Reserve has filed a $1.9B claim against Venezuela with the World Bank's international court.
"(International) litigation is like watching paint dry," he said, adding, "we think we have a pretty good case" against the Venezuelan government. The next international court hearing on the case is set for February 2012.
Venezuela said it may begin mining at Brisas but that will be difficult, Belanger said, because Gold Reserve has all the mining data and engineering information in its possession in the U.S. Duplicating that research could take years.
Gold Reserve will appeal the NYSE's delisting notification.