Channel News Asia, Lim Yun Suk
Celebrating a child's first birthday is a very important event in South Korea. Part of the tradition includes friends and families gifting gold rings for babies as presents.
But not just any ring of any size.
It has to be gold and weigh 3.75 grams, equivalent to one don in Korean measurement.
But with gold prices reaching above US$1,500 per 28.35 grams, the tradition has become too expensive for many Koreans.
Previously, prices for gold weighing 3.75 grams cost about US$60—US$70. These days, it costs about US$230 for the ring of the same size.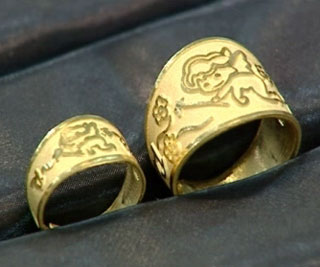 Song Hoon Suh, a jeweler, said: "Compared to before, I think the number of people buying gold has shrunk about one third daily. That's because in the past many bought them as presents."

Amid worries that the tradition is dying out, the government has introduced smaller rings that cost about US$60.

The rings are lighter, weighing only about one gram. The government also wants Koreans to start getting used to ''grams'' as the standard weight for gold instead of the Korean DON measurement.

But the reaction among Koreans is mixed.

A lady said: "Even if there are gold rings weighing one gram, I think it would be too small to give as presents. I would rather give cash enclosed in envelope."

"If it costs about 60,000 to 70,000 won, then it's not a big burden and so I think I would buy the gold ring."

The tradition of giving gold rings goes back a long time in South Korea when the death rate of infants was very high and many children died before they could celebrate their first birthday.

Hence the first birthday of a child is very important in South Korea where parents throw huge celebrations on that day.