Fiat currencies the world over are being manipulated by central banks, which is distorting asset and commodity prices. Successful investing requires that investors have a good idea of what things cost and what they are really worth. And using the world's oldest and most-stable form of money—gold—to compare prices is one way to get that insight.
To that end, below is a sampling of current prices measured in grams or milligrams of gold. Price comparisons are against prices as of June 10.
Currency Watch: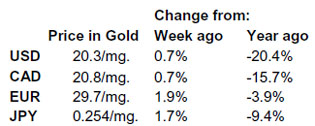 The month of May was rough for all the currencies, with the EUR and JPY making new all-time lows on the 24th and 25th, respectively, while the USD made a new all-time low on June 6th. Since then, they have all been struggling to regain the lost ground. Last week, the much-beleaguered euro made the most headway, followed by the JPY. All of the currencies are down significantly from their year-ago levels, but the USD has fared much worse than the others—it's down 20%.

Bond Watch:

U.S. Treasuries have been a terrible investment for at least the last eight years. Since 2002, shares of the ETF SHY have lost 76% of their value, despite an apparent increase of 29% when measured using dollars. The long bond ETF TLT is just as bad, down 70% since 2002, despite a smoke-and-mirrors "gain" of 66% when measured in dollars. While Treasuries ticked up about 1%, following the lead of the USD, they remain down about 19% from a year ago.

Equity Watch:

Major stock indices have been falling for the last 10 years. The Dow, for instance, hit its all-time high around 1,400 gold grams in 1999. It has since lost over 80% of its value. For the last two years, major indices have been pretty flat after bouncing off their March 2009 lows. As with bonds, nominal prices have risen as currency values have fallen, leaving investors with lost purchasing power and huge tax liabilities.

Commodity Watch: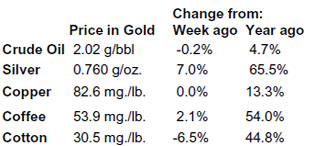 Silver has been strong—not just in dollars, but also in gold. On February 18, it closed convincingly above its long-term resistance level at 0.7 grams of gold. This was followed by a fast run-up to the 1.0-gram level (last seen in the early 1980s), and then a quick drop back to the 0.7 level.

There's been a lot of concern about rising commodity prices recently. Although many of these commodities are up strongly in the last year, they are rebounding off deep lows.

Crude oil, for example, finds its long-term support at around 1 gram per barrel (g/bbl), and hit 1.1 g/bbl in February of 2009. Although it has recovered to 2 g/bbl, crude traded at over 4.9 g/bbl as recently as 2008.

Coffee is another example. Trading at under 34 mg./lb. in May of 2010, it currently stands at 54 mg./lb.; yet in 1997, it traded over 230 mg./lb.

Cotton was less than 20 mg./lb. in early 2010, and now trades near 30 mg./lb. Cotton's 30-year average price is 53.2 mg./lb. (74% higher), and its record high of 250 mg./lb. is 8x today's level.

Chart of the Week: Boeing Co.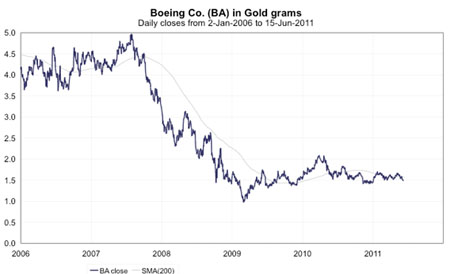 An article on MarketWatch discussing the Dow Industrial stocks stated that for 2011, Boeing is the best-performing stock in the index. On May 10, it was up 22.5%—a new 52-week high and very near its price three years ago (all in U.S. dollar terms, of course).

The chart above shows the real situation: Rather than making a new 52-week high, the stock was down 10.1% from its 52-week high set last July. It was up 14.2% for the year—not 22.5%. Rather than approaching its price of three years ago, it was in fact down 40%. And Boeing was the best-performing stock of the 30 Dow Industrials!

Of course, none of this tell one whether Boeing is a good buy at today's prices. To determine that, one would have to dig deeply into its fundamentals. But it does show that the conventional media, by using dollar prices, gives very distorted ideas about how cheap or expensive things really are.

Don't be fooled by bogus government currency shenanigans! Keep track of your investments' true values, using gold.

It isn't too late to capitalize on gold. It can offer security, profit potential, and an inflation hedge. Big Gold can help you sort through stocks, ETFs, and other ways to invest—and it's risk-free for three months.