AFP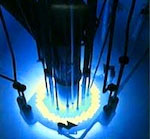 Some Chinese suppliers have again increased their offer prices for dysprosium oxide although sources reported that the market has seen few real transactions in the past few days despite a supply squeeze coupled with high prices.
Dysprosium is used for its high thermal neutron absorption cross-section in making control rods in nuclear reactors, for its high magnetic susceptibility to magnetization in data storage devices and as a component of Terfenol-D.
Market sources reported that some suppliers are currently quoting RMB10,500-11,000/kg. for 99% dysprosium oxide, and some suppliers have raised offers to as high as RMB12,000/kg., although offers of about RMB10,000/kg. have also been seen in the market.
"Some suppliers are currently quoting RMB10,500-10,800/kg. for the rare earth oxide," an executive at a Jiangxi-based supplier said. "We are currently quoting RMB$$10,000/kg. for the material, while we just want to explore whether downstream buyers would like to buy the oxide at this pricing level," the source said.
The executive admitted having no sales at the pricing level up until now.
A broker source in Beijing claimed that prices for dysprosium oxide have moved up to RMB$$9,800–10,000/kg. before duty, with some small transactions seen at the pricing level.
"Many suppliers have been holding on to their stocks and the market has continued to see a tight supply," the broker said.
Meanwhile, a supplier source in Jiangsu reported some dysprosium oxide has been transacted at as high as RMB11,800/kg. this morning.
"Some offers for the rare earth oxide have increased to RMB11,500–12,000/kg.," he said.