Gold and silver equities have led the markets lower and have underperformed the metals significantly this year. For the past month or so, gold has firmed and bonds have moved higher as most asset classes have declined. Unfortunately, mining equities have been among the worst performers. However, our work leads us to believe that an important bottom should be in place very soon.
From top to bottom we plot GDXJ (junior golds), SIL (silver stocks), and GDX (large-cap golds). While each has broken down in recent days, each is only 5%Ė6% away from a confluence of very strong support. These ETFs gained significantly in 2010 and what we are seeing is a correction and deep retracement of substantial gains. Buying on weakness in a bull market is always a good plan but with the exceptionally volatile mining stocks, we want to see deep oversold conditions and the presence of strong support.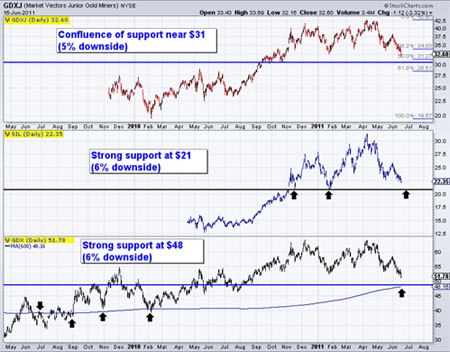 In addition to an oversold condition and technical support, we want to see evidence that the sector is unpopular and under-owned in a short-term sense. We donít want to get bullish when the crowd is chasing a particular market. Below is a chart from Sentimentrader that shows data from the Rydex Precious Metals Fund. In less than six months, assets in the fund have declined from $345MĖ$135M.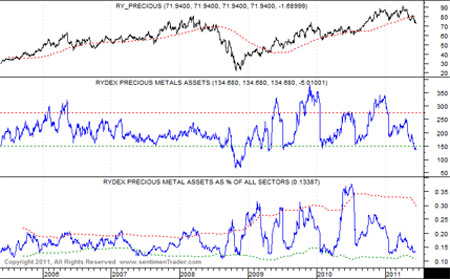 The broad weakness in risk assets and the decline in precious metals shares has some worried and concerned. However, this is not another 2008. Then there was credit stress in the private sector and not on the sovereign side. Oil and inflation cut into margins of the miners and there was forced selling as hedge funds blew up. We donít see any of these problems today.

The sector will bottom in the coming days and look for it to coincide with a worsening of problems in Europe. Bond yields in Greece, Portugal, Ireland and Spain are dangerously breaking out to the upside while credit default swaps are starting to move. As the euro weakens, gold may catch a nice bid in anticipation of more debt monetization. If you're looking for more analysis and professional guidance, we invite you to learn about our premium service.

Good Luck!

Jordan Roy-Byrne, CMT
TheDailyGold
www.thedailygold.com